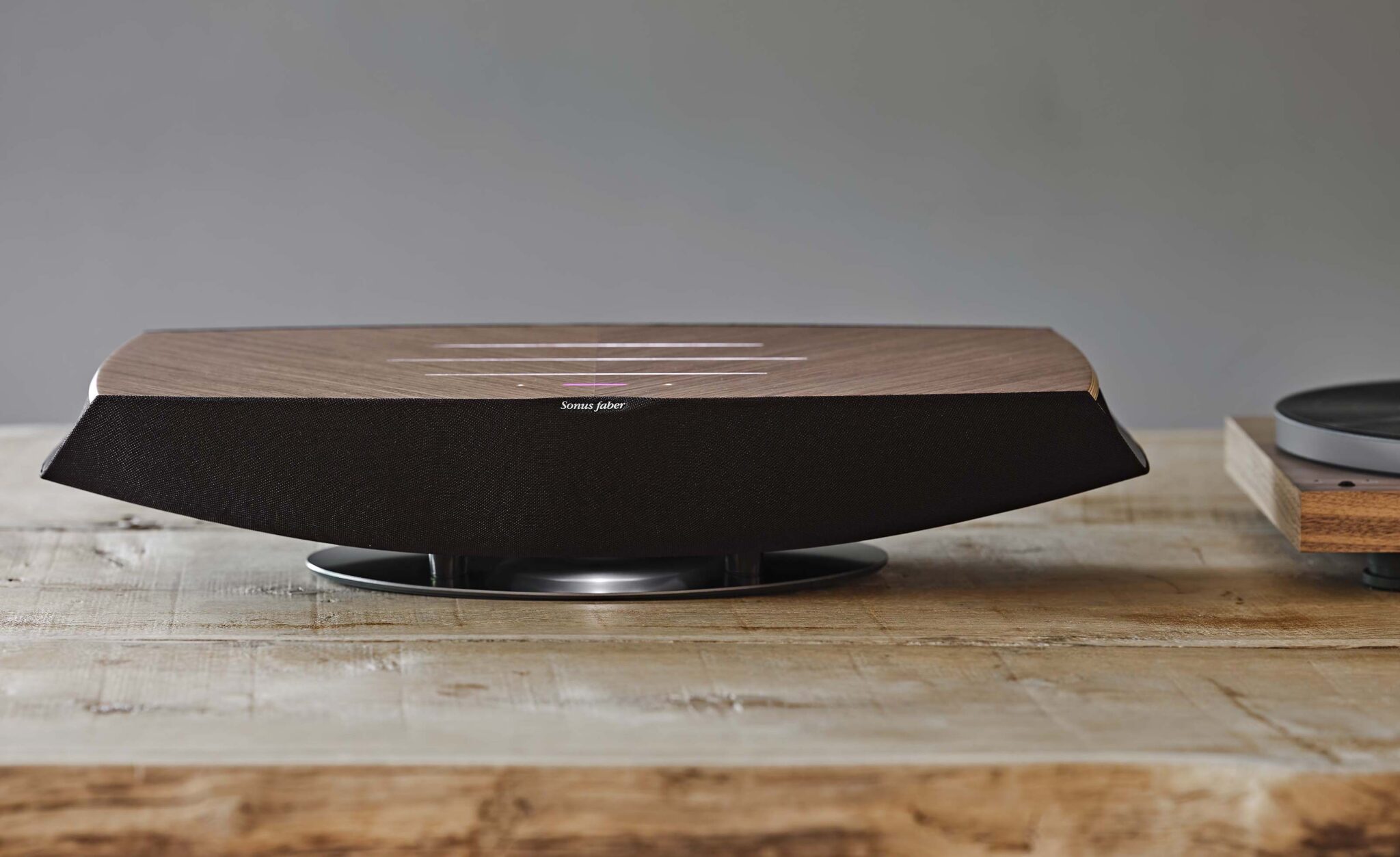 SONUS FABER OMNIA WIRELESS SPEAKER
This high end piece of audio apparatus is an all-in-one high end wireless speaker to significantly enhance your home audio experience and elevate your interior design aesthetic in the process. It is billed as an ecosystem that embodies Sonus faber's values and heritage, from Italian tradition to contemporary technologies.
The Sonus faber Omnia Wireless Speaker has an organic architecture of technological desires, exemplified in one, wireless system and if you're after an audio solution that delivers both in the performance and visual departments, this is unquestionably the one for you. The incredibly innovative acoustic technology meets Sonus faber's natural elements, and effortlessly merges with every home technology setup. The Natural Sounds it delivers enhances everyday special moments and you'll be hard pressed to find a cooler looking speaker on the market than this one from Sonus faber.
OUTSTANDING PERFORMANCE
It's clear that the Omnia Wireless Speaker doesn't disappoint from an aesthetic point of view but when a piece of kit looks as good as this one, it needs to back it up with its calibre of performance. Safe to say it doesn't disappoint. It has been created to satisfy every ambience sonorization. It possesses a wide array of digital and analogue connections that allow the user to best interact with the system's amazing performance capabilities. Once you've heard it in action for the first time, you'll not be able to believe just how good the Omnia sounds.
The multilayer wood top of the Sonus Faber Omnia Wireless Speaker immediately evokes the iconic Italian style and the unmistakable design with which the brand is synonymous. The Walnut finish provides a stylish and traditional ambience, while the Graphite offers a new industrial look. It is all about the visuals matching the performance with this one and there isn't an area in which this wireless speaker disappoints in our opinion here. It is a highly connected bit of kit ideal for all your devices, for your turntable, to guarantee your TV has an unrivalled sound, the Omnia is the high end wireless speaker that offers you every connection you could possibly need.
A real stand out feature of this speaker is SENSO™ which is Omnia's tactile illuminated wooden top panel. This touch sensitive interface allows direct control
of the system, with an additional remote operation available courtesy of the supplied handheld controller and user's smartphone or tablet. The illuminated lines indicate the wireless speaker mode, which streaming service is in use and which input is selected, also allowing the user to adjust the volume. Last but not least, CRESCENDO™ is the advanced signal processing system the Omnia uses for an unparalleled level of immersion in your music. It cleverly utilises the two full range sides speakers to create a crisp wavefront which mimics that of a live performance.