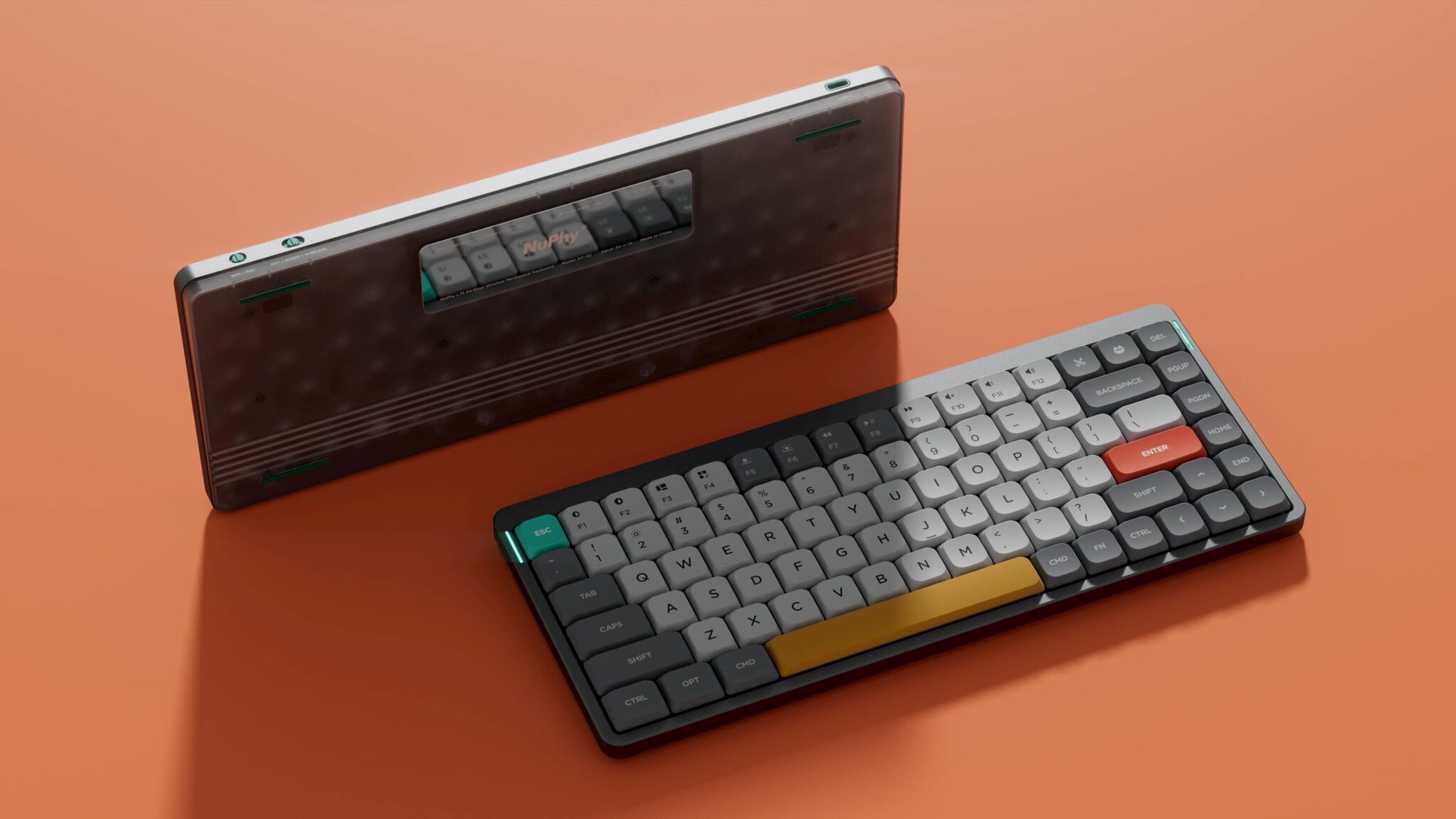 NUPHY® STUDIO AIR75 WIRELESS MECHANICAL KEYBOARD
We've got a real thing for cool looking keyboards recently here So we've understandably had our heads well and truly turned by this awesome looking Air75 Wireless Mechanical Keyboard from the team at NUPHY® STUDIO. This striking bit of kit is an innovative 75% ultra-slim wireless mechanical keyboard with a bold visual aesthetic. With the world's thinnest PBT spherical keycap, low-latency 2.4G wireless connection, and hot-swappable function, the Air75 aims to become the new standard for slim mechanical keyboards. And, given how cool it is, it just might.
The compact 75% layout of the NUPHY® STUDIO Air75 Wireless Mechanical Keyboard is compatible with both Mac and Windows so whatever system you're running, this is the keyboard for you. You can connect up to four devices with low-latency 2.4G and Bluetooth 5.0 to best support all of your multitasking needs. With a price tag of an entirely reasonable $109.95, the Air75 is great value for money and will add a real aesthetic impact to anyone's workspace this winter.
SUPREMELY COOL VISUALS
Courtesy of the ultra-thin aluminium frame and PBT keycaps along with the latest Gateron Low-profile Mechanical Switches, the thinnest part of Air75 Keyboard from NUPHY® STUDIO is a mere 16mm thick. In addition, the 2500mAh built-in battery has a mighty impressive 39% more power than NuType F1, which delivers up to 48 hours (in lab conditions) of battery life, enabling a whole week of use without having to recharge the keyboard. With the innovative aluminium alloy stamping process, NUPHY® STUDIO were able to completely hide the mechanical switches under the aluminium frame and keycaps while managing to keep a simple structure.
The sophisticated design of the NUPHY® STUDIO Air75 Wireless Mechanical Keyboard ($109.95) provides a unique presence in the slim mechanical keyboard market. It boasts 2.4G wireless and Bluetooth 5.0 that will effortlessly connect with up to four devices, meaning the Air75 can satisfy your multitasking needs at any time. For both gamers and editors who demand input effectiveness, the new 2.4G wireless ensures a lower latency and higher stability than with a Bluetooth connection. You can also use a USB-C cable to connect Air75 to your device.
In order for Air75 to deliver an enhanced typing experience, NUPHY® STUDIO designed the world's first ultra-thin PBT keycaps. With both form and function in mind, they adopted an ergonomic spherical keycap design of 4.6 mm thickness, which gives the user an excellent typing experience on a slim keyboard. Crafted from highly robust PBT plastic, COAST keycaps use advanced dye-sublimation colouring technology, which completely overcomes the shortcoming of ABS keycaps which are known to wear down quickly and develop an unwanted shine over time. Need a new keyboard this Christmas? Problem solved.