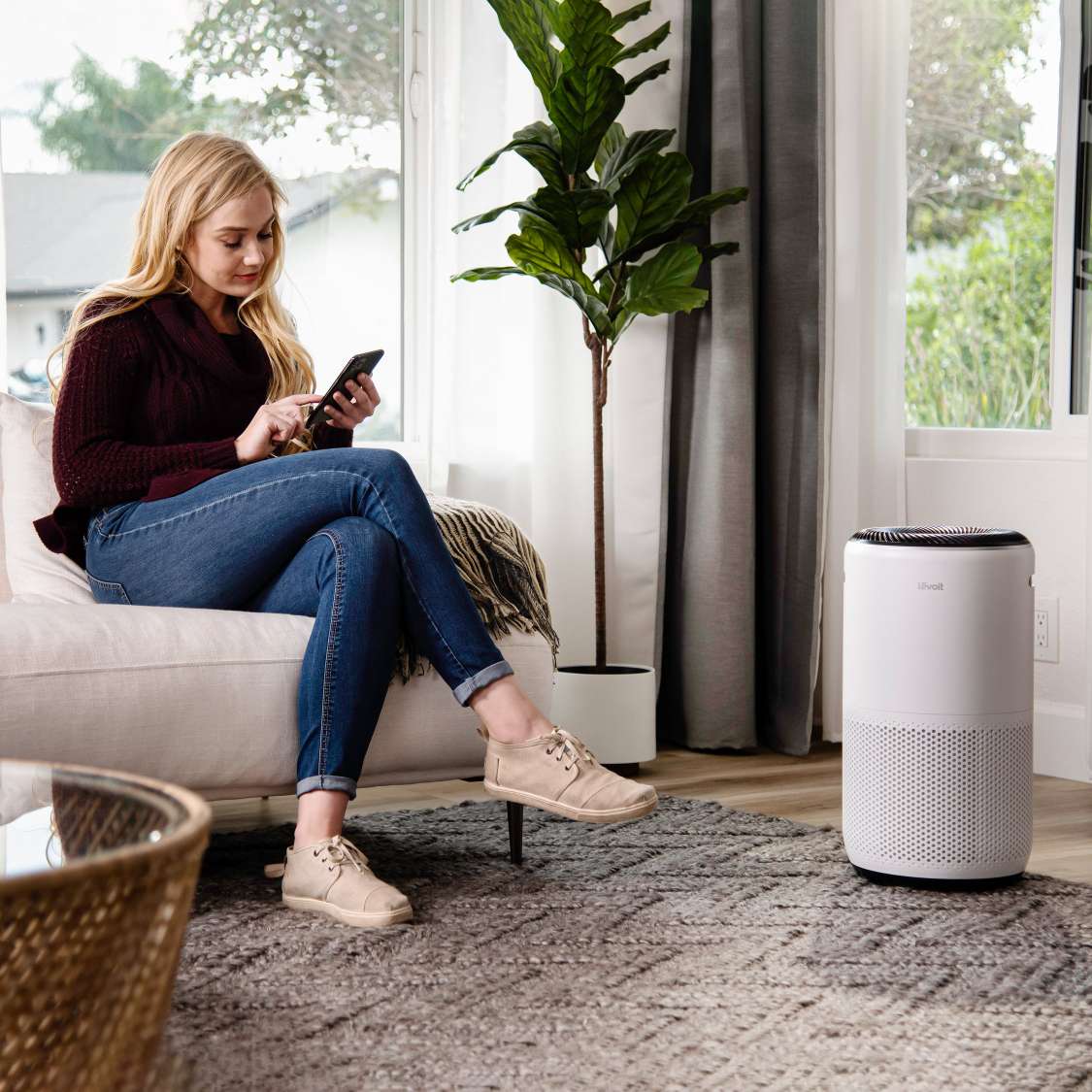 Levoit's 400S and 600S
Levoit's 400S and 600S smart air purifiers are the perfect gadgets for a healthy home
Two options are available, both featuring H13 HEPA filters, which capture 99.97% of airborne particles thus improving air quality in the home
With hayfever season well and truly here, or for pet owners, the Levoit smart air purifiers are the ideal gadget to have in the home. Both purifiers have been designed to help users live a healthy and happier life and are an easy and affordable solution for whole house purification. Suitable for most rooms, the Core 400S covers an 83m² space whilst the Core 600S can purify a 147m² room with both featuring H13 HEPA filters to capture at least 99.97% of airborne particles through a three-layer filtration system.
The Levoit Core 400S features powerful, automatic purification with HEPASmart ™ Technology that enhances filtration, capturing 99.99% of airborne bacteria and mould, and 99.9% of viruses. With a smart and sleek design and easy-to-use technology, it has innovative features including:
A Preliminary Filter that removes common allergens such as dust, lint, fiber, hair, and pet fur.
The H13 True HEPA Filter with HEPASmart™ Technology to capture bacteria, mold, viruses, pollen, and pet dander for a cleaner and more comfortable environment.
AirSight Plus™ Technology senses changes in the air quality up to ten times faster than infrared lasers and automatically adjusts fan speeds for you when Auto Mode is selected.
The powerful VortexAir technology brings air in from 360-degrees, which is why it can purify your 83㎡ space 2x times an hour.
Designed to be quiet, it can be placed in a bedroom overnight with minimal disturbance and also is made for energy saving with a maximum power of 24W – costing less than £0.20 a day to run. The powerful VortexAir technology brings air in from 360-degrees, so can purify an 83m² space 2 times times an hour.
The user-friendly interface shows settings, filter life, and real-time PM2.5 readings of the number of airborne particles, such as dust and smoke, in the air. Users can also view real-time air quality updates on the VeSync app, along with remaining filter life and daily air quality data graphs.
Super convenient, it can also connect to Google Assistant™ and Amazon Alexa for hands-free control and the VeSync app allows it to be controlled from virtually anywhere.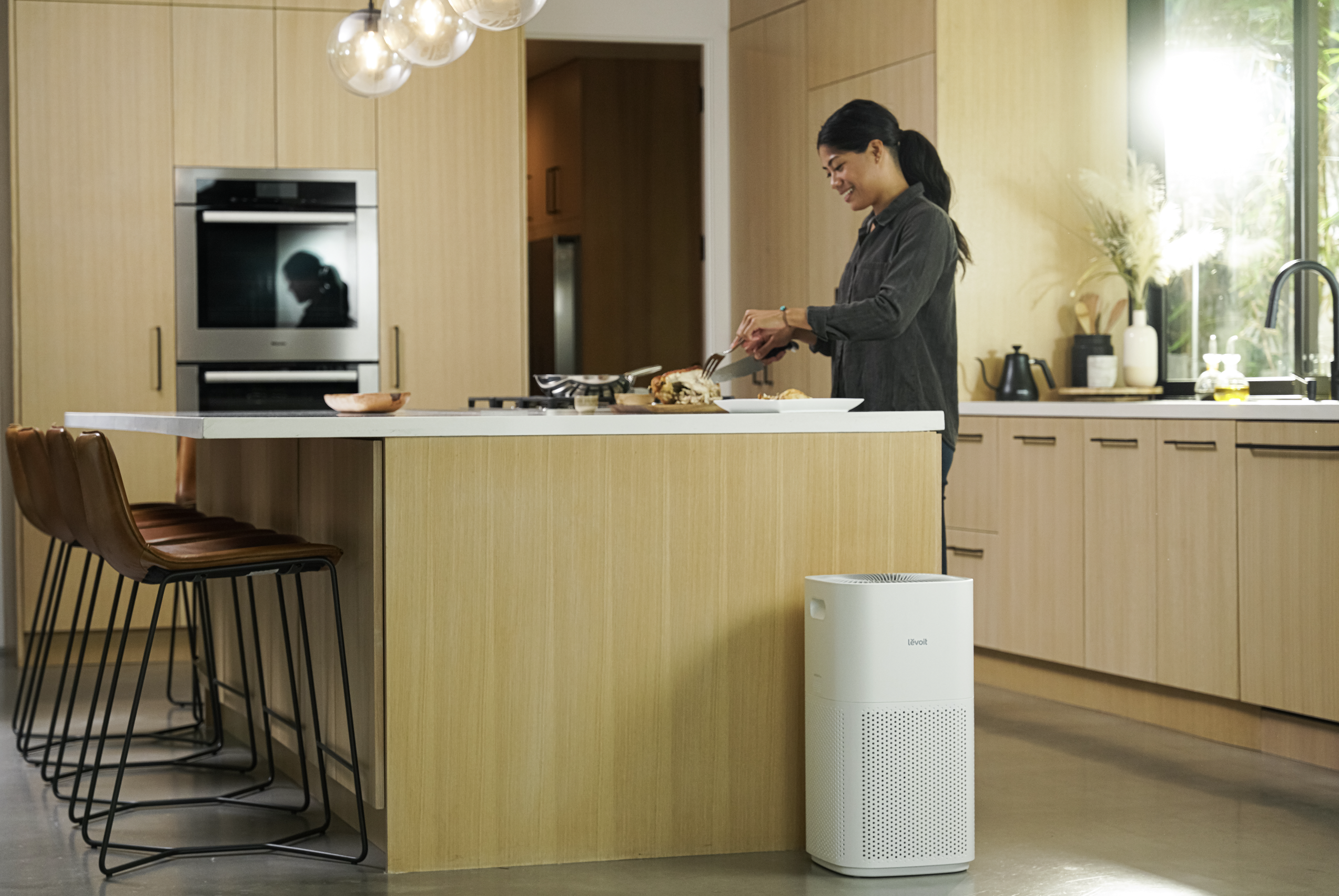 Levoit's most powerful air purifier, the Core 600S scans the room for tiny contaminants and uses enhanced technology to keep the air cleaner than ever for whole house purification. Suitable for most rooms, it uses advanced VortexAir 3.0 technology to decontaminate spaces as large as 147m² twice per hour making it ideal for living rooms, open kitchens, high-ceiling houses, large bedrooms and more. The handle design at both ends of the purifier allow it to be moved easily for convenience.
Featuring a three-layer filtration system, the purifier enables users to have a healthier home. Using the pre-filter, it can filter large particles such as dust and pet fur and the included H13 HEPA filter captures at least 99.97% of airborne particles of 0.3-micron size such as pollen, fine dust, pet dander. With the High-Efficiency Activated Carbon Filter, it can also absorb smoke, odour and fumes.
A smart device, the Core 600S can be controlled remotely using the free VeSync APP to create schedules and organise timings but it can also be connected to Alexa or Google to switch on and off the purifier and switch gear speeds through the voice.
Levoit's exclusive AirSight Plus technology is twice as accurate as an infrared laser, and displays PM2.5 values and an intuitive colour ring on the display. Providing real-time monitoring of air quality, it can also automatically adjust the gear according to the air quality at that time when using the automatic mode.
With a useful screen design on the top of the device, it is easy to operate and the light sensor can be controlled through the app. Quiet and secure, it can be used in the bedroom overnight with confidence as the noise level is as low as 26dB when in sleep mode. The screen light will also turn off after 6 seconds to ensure that there is no light disturbing sleep and the lock screen design prevents children from accidentally touching it whilst the rounded corner design is more secure.