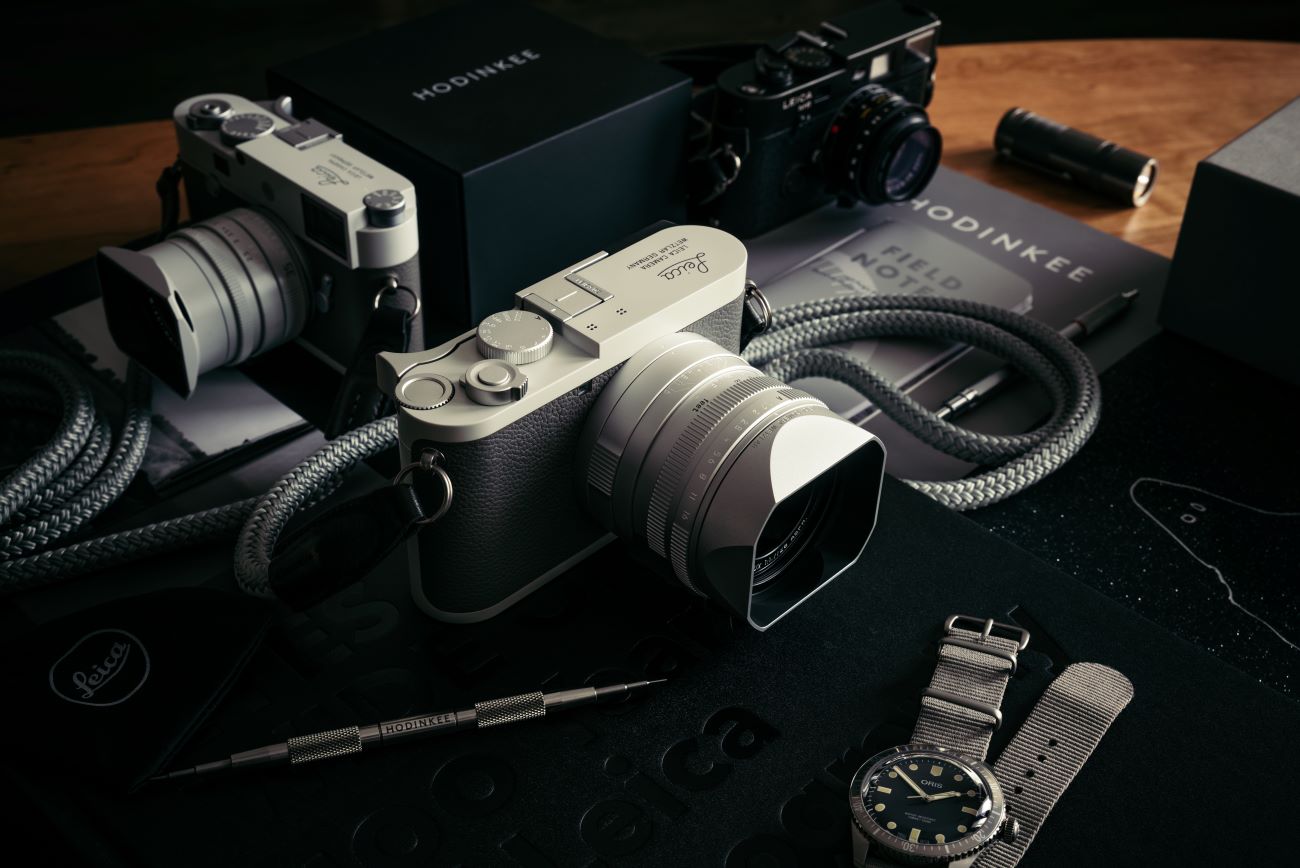 LEICA Q2 "GHOST" SET BY HODINKEE
Hodinkee are, of course, an authority when it comes to timepieces but so far as their collaborations are concerned, they don't just limit themselves to watches and we're glad they don't when it results in releases as awesome as the Leica Q2 "Ghost" Set by Hodinkee. This is a horologically-themed edition of the perfect everyday camera and it comes in two different variations and will make an excellent gift for any photography/timepiece aficionado this year.
This first-class collaboration follows in the spectral footsteps of Hodinkee's first collaboration with Leica in 2019, the Leica M10-P "Ghost Edition" For Hodinkee and builds upon it as well. It is part of a limited edition of just 150 full sets and is coloured to invoke the ghostly faded bezels of some of Hodinkee's favourite well-loved dive watches – namely, the light grey Ghost colourway and is a departure from the black paint common to the standard body of the Leica Q2.
Priced at $5995, this is a sizeable investment but one not to be missed if you're serious about your photography. In a first for the Q2 camera from Leica, the lens has been coated in an anodised silver finish that evokes the steel case of a sturdy dive watch but also plays into the distinct minimalist aesthetic of the Ghost colourway. In keeping with the release's monochromatic appeal, the traditional "red dot" Leica logo has been omitted and the top plate signature has been rendered with Leica's vintage signature in another shade of warm grey.
The Leica Q2 "Ghost" Set By Hodinkee boasts not only a silver aluminium thumb grip but also a grey woven Leica rope strap. On the back of the camera, framing the Q2's 3-inch LCD displayyou'll find an understated engraving showing "GHOST SET BY HODINKEE" above the display and, below, the specific number for the set (###/150) within the limited edition made especially for Hodinkee. All these small details combine to make sure that the Leica Q2 Ghost is a specific and exceptionally collectable limited edition of an already unique camera.