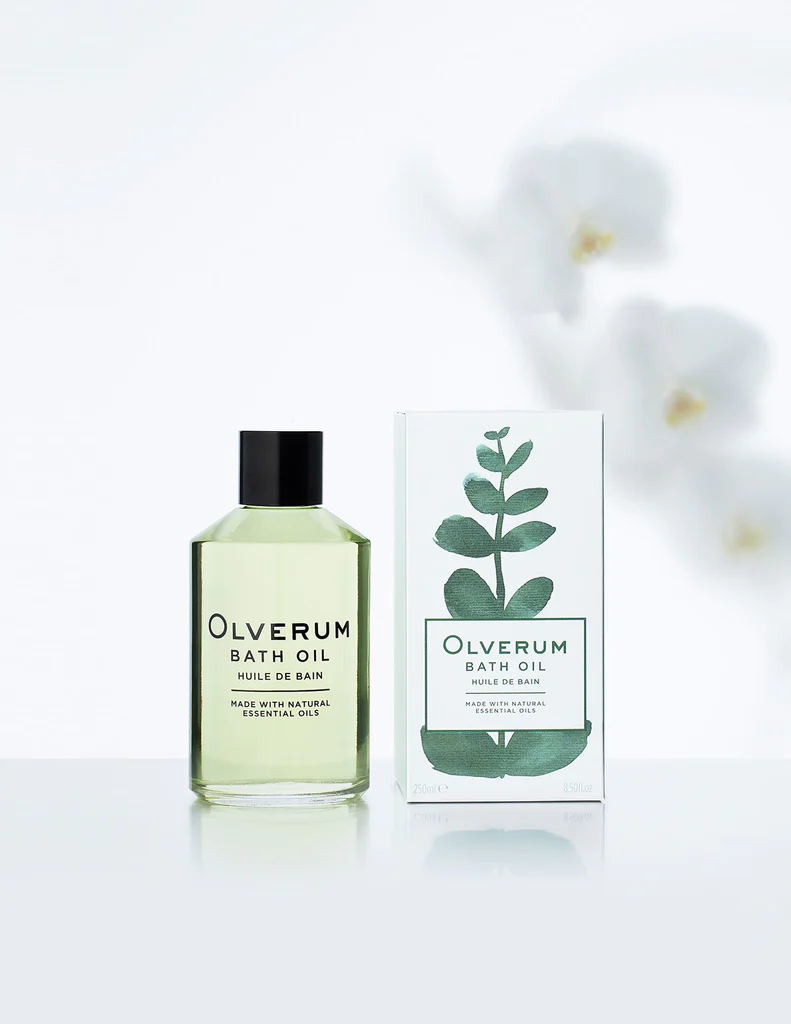 OLVERUM
Long considered a cult classic among green wellness devotees, OLVERUM Bath Oil is the distillation of generations of therapeutic tradition, scientific expertise, and sustainable values.
An OLVERUM bath is as pampering as it is restorative. Its unique blend of therapeutic oils work in harmony to rebalance skin, revive tired muscles, open stuffy airways, and bring a deep sense of relaxation to the mind, while invigorating the spirit.

Cruelty-free, vegan, and naturally free of petrochemicals, the iconic bath oil remains true to the closely guarded formula crafted in 1931 by its creators, Edith and Franz Otto Klein, a pharmacologist and winemaker from Germany's Mosel Valley. Among the pioneers of sustainable, biosynergenic wellness, OLVERUM's founders were pillars of the legendary 1920s European spa renaissance.

Inspired by the house blend of their favourite spa in Baden-Baden – nominated as a UNESCO World Heritage site – the Kleins spent two years perfecting perhaps the era's definitive therapeutic oil. Containing extracts from ten aromatic plants, carefully selected for their individual therapeutic properties and the synergistic interaction of their effects.

More recently, the rights to the formula were handed over to the Hawksley family – founders of famed London perfumery Les Senteurs – who are bringing the brand to the attention of a new generation of natural health and beauty enthusiasts.

Thus, the OLVERUM legacy remains a story of commitment to specialist knowledge, therapeutic tradition, and personal passion. It's little surprise that many regard OLVERUM as the ultimate in luxurious self-care.
Olverum Bath Oil is a highly concentrated and unique blend of 10 essential oils: Eucalyptus, Lavendar, Juniper, Lavandin, Lemon Peel, Siberian Fir Needle, Exotic Verbena, Lime, Geranium and Rosemary.

SIZES, PRICING, AND AVAILABILITY
OLVERUM Bath Oil 125ml
(enough for 25 baths)

£39.50
OLVERUM Bath Oil 250ml
(enough for 50 baths)

£71.00
OLVERUM Bath Oil
3 x 15ml Travel set
(enough for 9 baths)

£27.00
Available from Liberty, SpaceNK, Fortnum and Mason, Fenwick, 
olverum.com