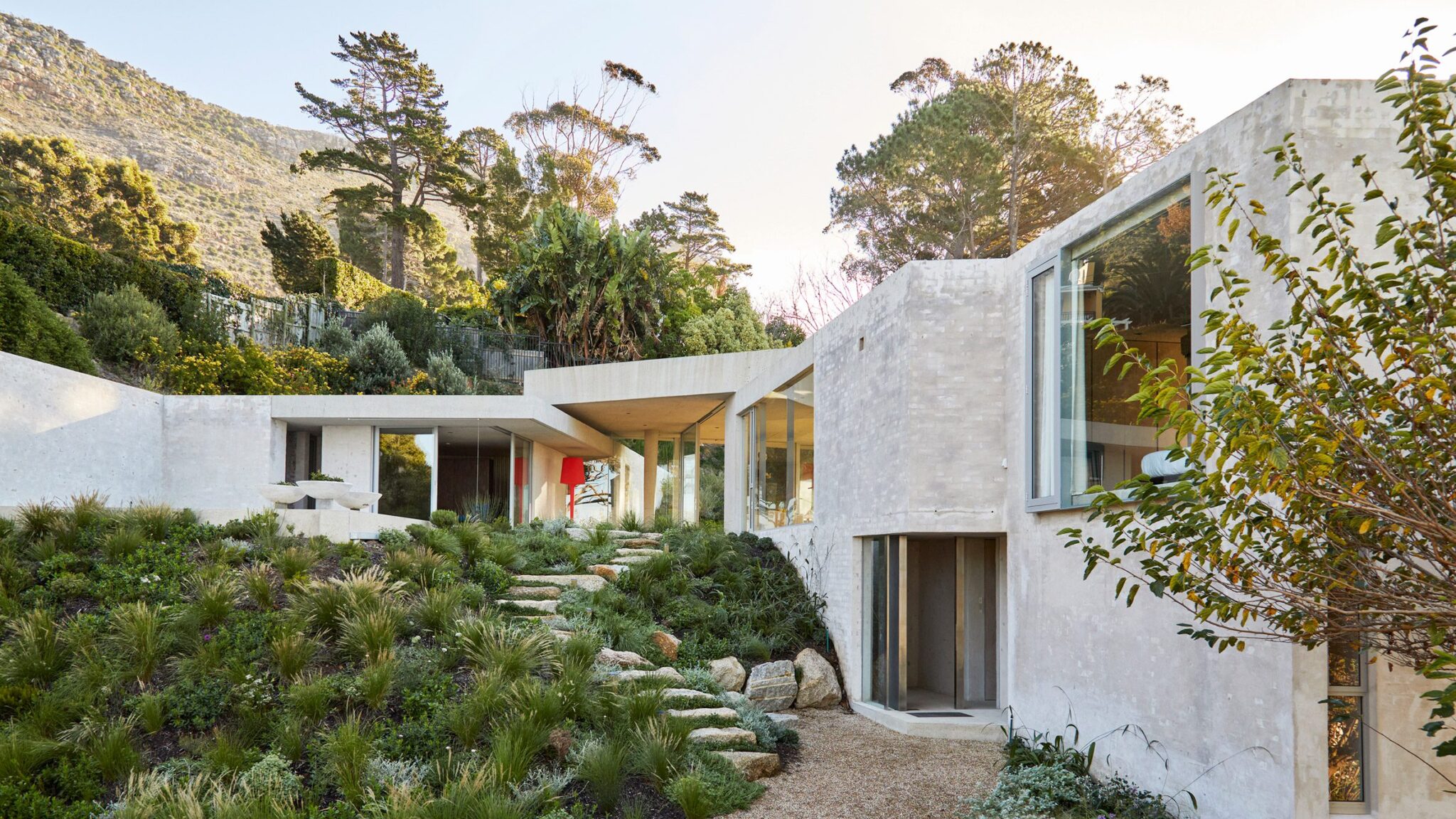 MOUNTAIN HOUSE
We always lean towards minimal and understated designs and Mountain House from Cape Town-based architect Chris van Niekerk firmly hits our sweet spot. The property is situated in the foothills of the Steenberg Ridge, a range of mountains south of Cape Town. It was designed by Van Niekerk as a series of linear, grey blocks of varying heights that follow the slope of the land.
Mountain House is owned by a Belgian couple who use it as a winter retreat and the design is inspired by the work of Belgian architect Juliaan Lampens, who often used cast-in-situ concrete in his work. The two-storey building has a textured finish achieved through a variety of materials and techniques. The concrete sections were sandblasted to create a rough surface, while the brickwork was finished with lime plaster that was applied using a technique called bagging.
Bagging involves using hessian bags to apply the plaster, which leaves traces of the brick texture visible. This creates a unique and interesting look for the stunning South African home. The granite floor tiles that are used both inside and outside the house create a sense of unity and harmony in the design. The layout of the house follows the footprint of the building that was previously on the site. The main living spaces are located on the upper level, which has a U-shaped floor plan that wraps around a terrace and swimming pool.
This level of Mountain House also boasts a large glass-walled space that serves as a lounge, dining room, and kitchen. The master bedroom suite is located behind this space, and it features an en-suite bathroom with a sunken bath. A guest room, study, and sauna are located on the opposite side of the house. Minimal glass doors and windows extend floor-to-ceiling in several rooms, facilitating indoor-outdoor living while also giving occupants impressive views of the breathtaking mountain landscape that surrounds the majestic property.