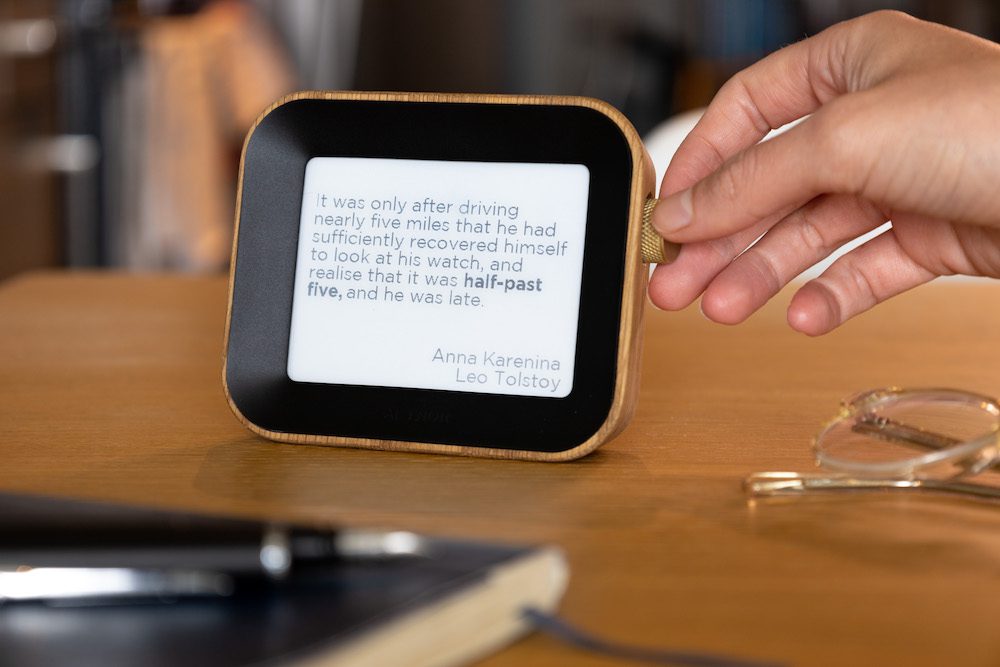 MECHANICAL DESIGN LABS AUTHOR CLOCK
For those with a love of reading and literature, you're going to be in your absolute element with this new project on Kickstarter from the talented team at Mechanical Design Labs. The Author Clock is a whole new means of telling the time and one that will add a touch of literary class to your home or workspace. This clever piece of kit is billed as a modern clock that displays the time through unique literary quotes every minute and includes writing from some of your favourite authors —this is time-telling; reimagined.
The Author Clock from Mechanical Design Labs on Kickstarter is already looking as though it will be a mighty popular campaign and for good reason as it offers a compelling, new way of seeing the current time at a glance and, in a lot of cases, will give you a new literary quote to remember. It has been designed to transform checking the time into a whimsical event, transporting you into key moments in literature and writing history. This clock boasts thousands of quotes from a diverse range of authors and it is a creative and inspirational way to tell time. If you love a good book and great story, this is the clock for you.
REIMAGINING TIME
The Author Clock contains over 2,000 quotes from authors spanning six centuries so there will be plenty of new and inspiring ones on there for you to enjoy. There will never be a dull moment and you will discover something new with every passing glance at the Author Clock. With prices starting at a thoroughly reasonable $99 (for the early-bird, VIP pricing), you'll be getting a real talking point for your home and an entirely new means of telling the time if you throw your support behind this campaign over on Kickstarter.
The team at Mechanical Design Labs are always looking for new quotes from different authors that can help them diversify their time-telling instrument and it will help put you in control of what you see on the Author Clock on Kickstarter (from $99). When you back the crowdfunding campaign, they will provide you with a space to submit the quotes you've discovered from some of your favourite books and, as long as it contains a time of the day, it's got a chance of being included on the finished version of the awesome looking Author Clock.
Available in a Large size (designed for your wall or bookshelf. It's readable from across the room from 10 feet away) or a Small size (designed for your desk. It's readable from across your desk  from 3 feet away), you can pick the Author Clock that best fits in with your interior design aesthetic. Each one is made from high quality materials which includes brass knurled crown, white oak housing and recycled plastic front bezel, there is a tangible sense of quality to the touch. You can pick the font you want with the Author Clock and the premium e-reader screen reads like paper and uses zero blue light. It has no glare even when faced with direct sunlight and won't disturb your sleep because it is not overly bright at night. Want to change the way you tell the time? Head on over to Kickstarter now.