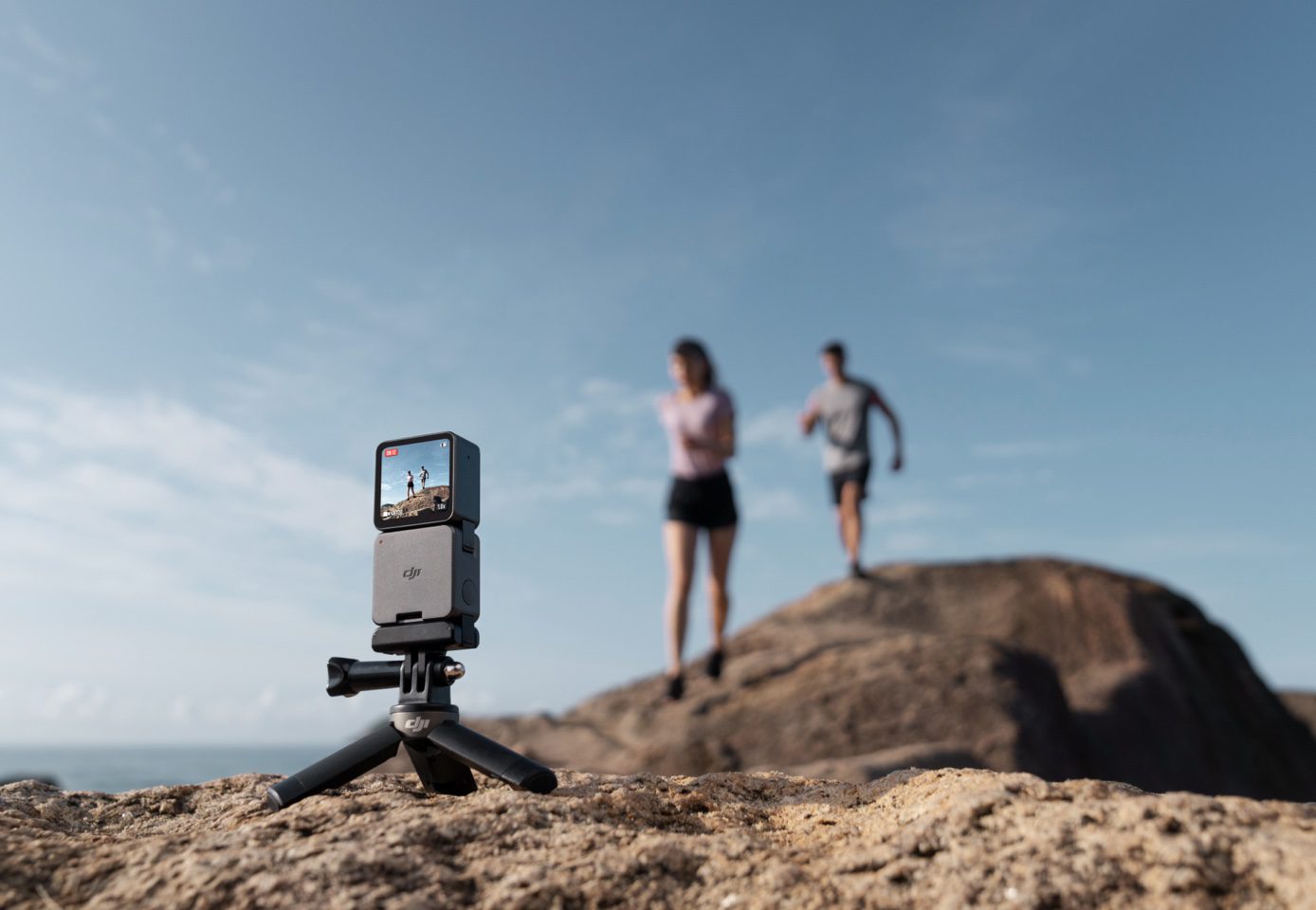 DJI ACTION 2 DUAL
DJI's Action 2 Dual-Screen Camera Combo might just be one of their most accomplished to date. This excellent looking bit of kit from DJI is effortlessly portable (and wearable) and boasts a versatile magnetic design which ramps up its functionality no end. Put simply, if you're looking for the ideal device for recording all your outdoor adventures, you've just found it.
The DJI Action 2 Dual-Screen Camera Combo has a price tag of £455 and includes a camera unit, front touchscreen module, magnetic lanyard, magnetic ball joint adapter and power cable – basically everything you need to get your filming up and running. This impressive combo of kit offers dual touchscreens and the versatility of magnets which lends itself perfectly to an array of shooting scenarios. Whatever action you're looking to capture, you'll be able to do it with this latest release from DJI.
CAPTURE THE ACTION
Perfect for staying in the moment, the diverse and wearable DJI Action 2 Dual-Screen Camera Combo will keep your hands free, so you can live in the moment as you capture the world around you. The magnetic design of this small but perfectly formed bit of kit from DJI lets you freely snap and switch between powerful modules and accessories without having to lose your flow in the process. From daily life to the extreme, Action 2 has you covered wherever your adventures may take you.
The DJI Action 2 Dual-Screen Camera Combo (£455) shoots 4K/120fps video and offers an ultra-wide 155° FOV which is an impressive feature that content creators will definitely appreciate when it comes to making the sorts of videos that their audiences will want to see. Capture more of your surroundings with smooth, detailed footage and a finished video quality that is second to none. DJI are one of the best in the business when it comes to the sort of tech and it certainly shines through with the Action 2 Dual-Screen Camera Combo.
Rough and ready in the extreme, the DJI Action 2 Dual-Screen Camera Combo is built tough and will always have your back when heading out into the wild or capturing your urban adventures. The DJI Action 2 Camera Unit is drop-proof, dust-proof, and waterproof at depths of up to 10 meters so it is a real all-rounder that can go anywhere and shoot any action you can think of. No matter how wild the action gets, DJI's latest stabilisation technology RockSteady 2.0 and HorizonSteady detect and correct camera shake and rotation in real-time. An essential addition to any content creator's lineup.