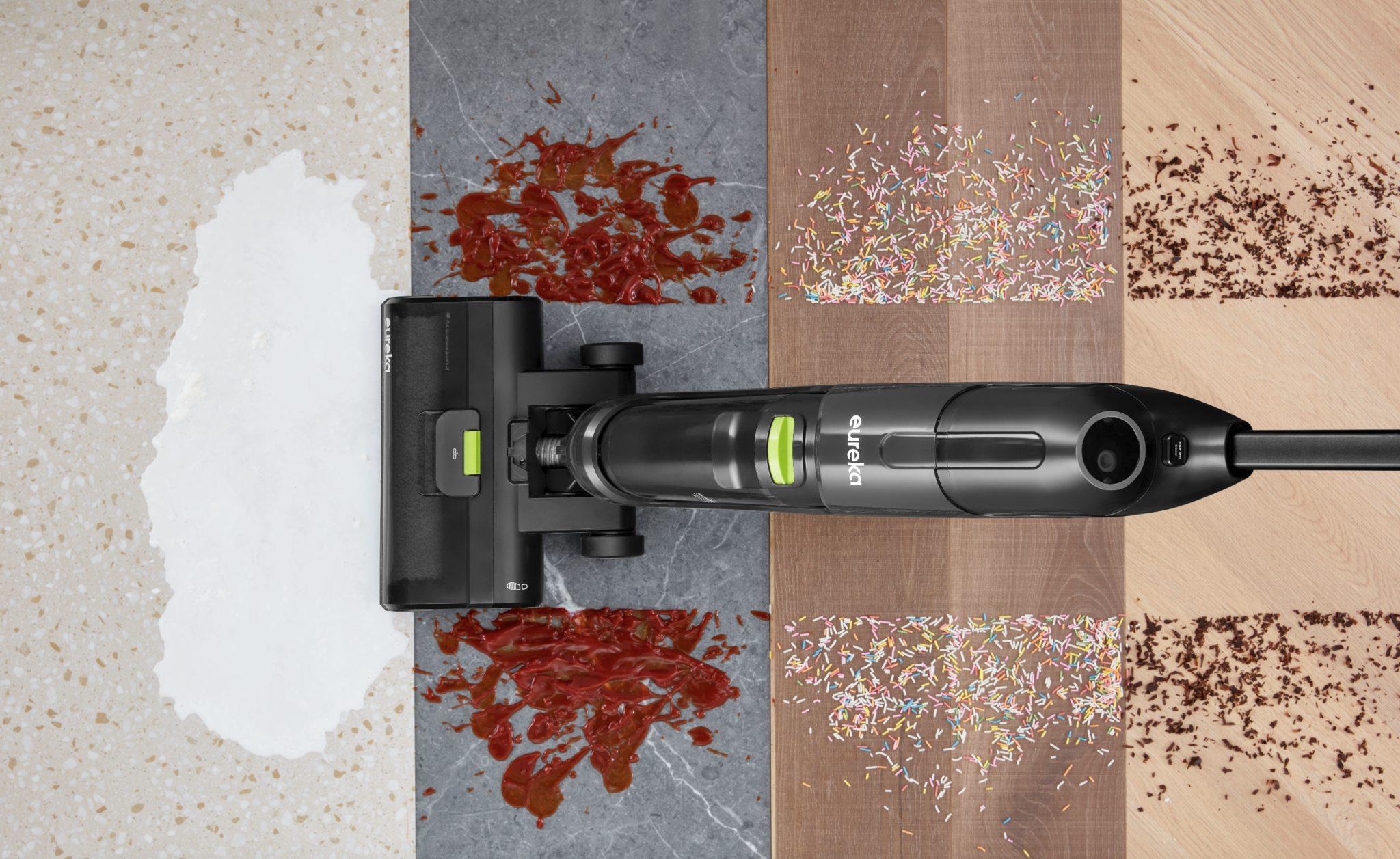 Eureka NEW400
Eureka unveils NEW400 Wet/Dry Cordless Vacuum, making 2-in-1 deep cleaning and floor washing even easier
Floor care, vacuums and carpet cleaning solutions brand Eureka has brought its versatile new cordless floor washer the NEW400 Wet Dry vacuum to market with an affordable price point of just $199.99, via Amazon stores now.
The Eureka NEW400 is a handy 2-in-1 cleaning solution, specifically designed to make deep cleaning as simple as possible – for elderly groups, busy parents, young homeowners, students, and more.
This 2-in-1 vacuum and mop saves time and effort, thanks to offering users convenience in lifting dirt and dust from carpets to all kinds of hard floors, while also cleaning grime and mess off hardwood flooring. This innovative product allows consumers to tackle all of their cleaning needs, with a battery life offering 20 – 30 minutes of continuous cleaning power in one go – which is more than enough time to cover a small home or large apartment, without stopping.
There is no need to stop to refill the water either as the NEW400 has a 600ml large capacity water tank. In fact, there is no need to worry about the traditional double-dip into dirty water that you have with a mop! Eureka's two-tank system means you are always cleaning with fresh water, while dirty water and debris are collected in a separate tank.
The Eureka NEW400's better cleaning performance makes it ideal for everyday mess. Its 120W powerful motor and ≥90% water recovery rate offer the best cleaning effect, ensuring there are no water stains left on the floor while the cordless design and fingertip controls give you the freedom to clean wherever, whenever with ease.
The deep cleaning capabilities come with suction that can eliminate debris on hard floors. There is the added benefit of a flexible brush head, advanced swivel steering, and self-propulsion so it is easier to maneuver. You can change direction quickly while on the go and get under sofas and beds with minimal effort, so cleaning hard-to-reach areas will now be a breeze.
Eureka's NEW400 is also far more convenient to use thanks to its stack of improved operation features, including fingertip control, for customized operation so you can easily switch between cleaning hard floors and carpets, and control your cleaning with an on-demand solution trigger, and an LED status display, so you can stay informed. The LED status display takes the guesswork out of mind, as it lets you know when it's time to recharge your Eureka NEW400, empty the tank, and more.
With the pause function, you can stop for whatever reason, and come back to continue cleaning anytime. But there is no need to stop due to disturbing sleeping family or pets, as the Eureka NEW400 is less than 80 decibels making it quieter than traditional uprights and soft like a cylinder vacuum.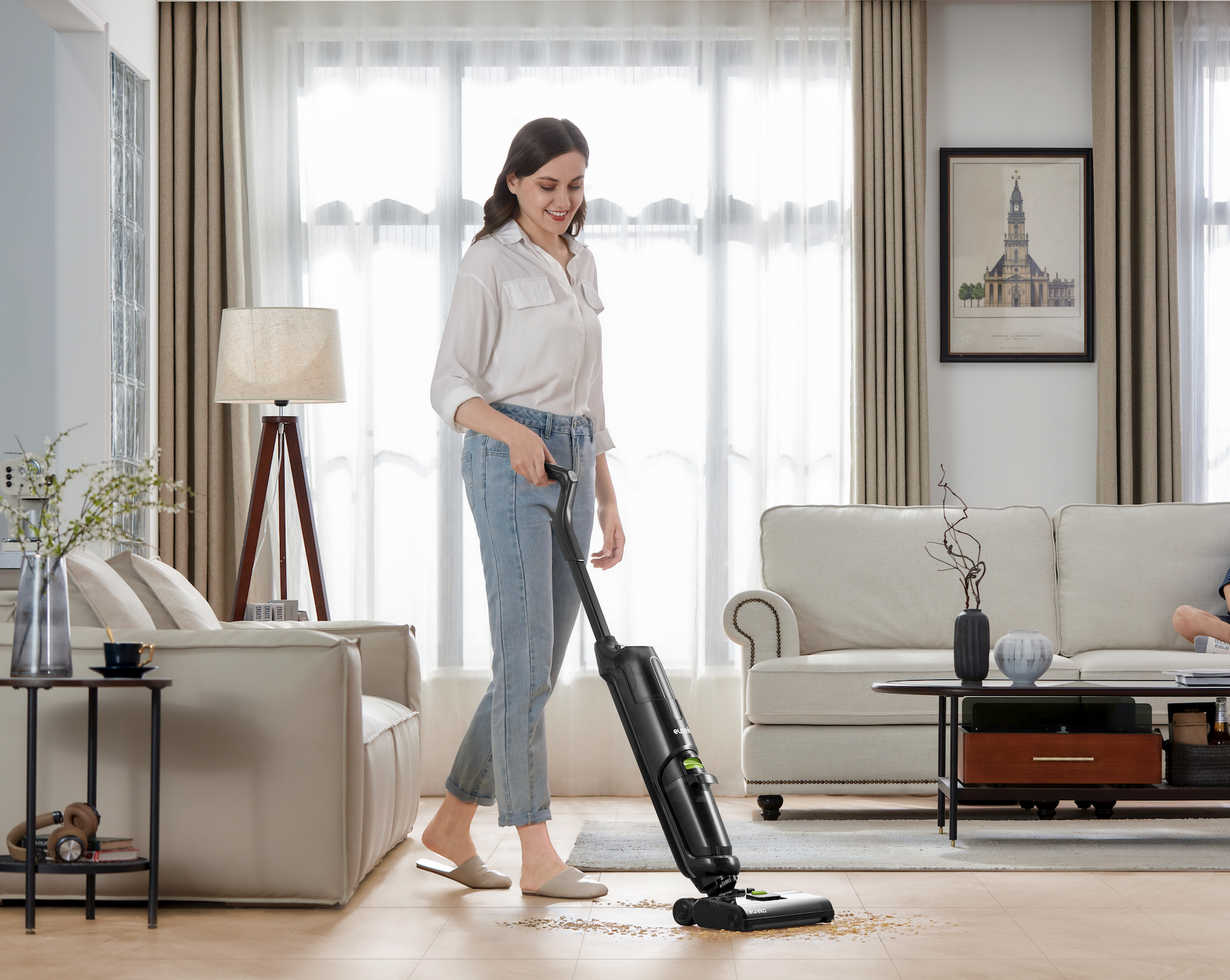 Finally, as if all that wasn't good enough, you can also now say goodbye to messy cleanups after you've cleaned up your home! Once you're done cleaning, simply put the NEW400 back into its rack, and press and hold the button for 3 seconds to start a self-cleaning cycle so your Eureka is ready and waiting for the next challenge when you are!
Willow Wang, Product Manager, Eureka said: "More than just an entry-level wet and dry vacuum and mop, our NEW400 has been designed to give buyers the excellent performance that Eureka is known for, but far less costly than our closest competitors. Every new product we launch aims to make the lives of consumers easier. We believe in thinking differently and with purpose, so each of our products has been efficiently designed to ensure they are easy to use and do what they say they're going to do. As your reliable cleaning partner, we pledge to always provide you with vacuums that offer performance, quality, and value."
The Eureka NEW400 is ETL&CETL certified with a 2-year limited warranty and 12-month limited battery warranty, giving buyers peace of mind. Get yours now via Amazon
To learn more about Eureka, how it helps consumers ensure their housework is easy, clean, done, and its full range of floor care and cleaning solutions including cordless vacuums, uprights, stick and handhelds, visit https://www.amazon.com/stores/Eureka/page/2C146D16-2E09-4B35-81CF-B1382470E3EF.