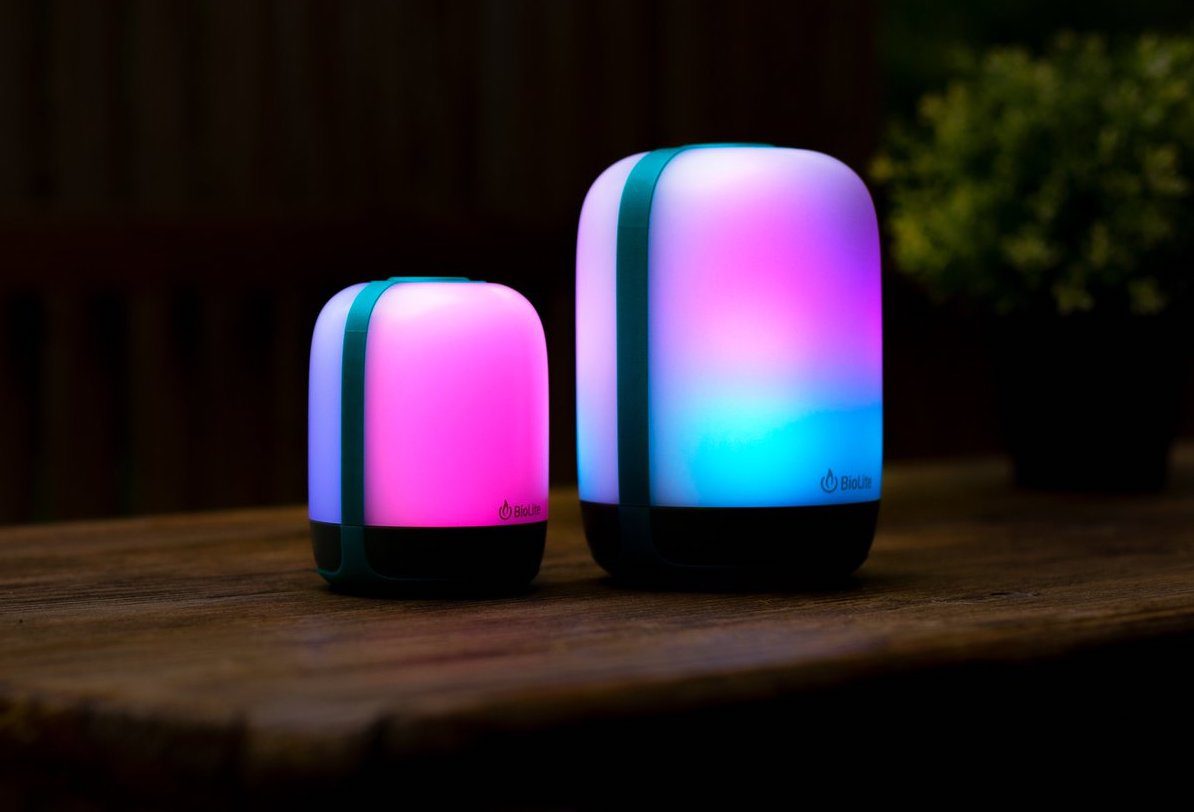 BIOLITE ALPEN GLOW USB LANTERNS
Autumn is a great time to get into the great outdoors for a final camping hurrah before the winter chill sets in but, as with all things in life, the experience will be more enjoyable if you have the right gear in tow. The guys at Biolite are somewhat of outdoor experts and their latest product, the Alien Glow USB Lantern, should definitely be on the list of essential purchases for any regular campers, or even backyard BBQers, out there because it boasts a mighty impressive performance that won't let you down.
The Biolite Alpen Glow USB Lanterns come in two different light intensities – namely, 250 lumen and 500 lumen – so you can choose the one that's right for your requirements or invest in their multi-glow pack which gives you two of each. Priced at $59.95 for the 250 lumen and $79.95 for the 500 (or $251 for the four-pack), these lanterns are great value for money and will add a pleasing hue to any outdoor adventures you've got planned over the next few weeks and will be ready and waiting again when spring and summer roll around next year.
LET THERE BE LIGHT
Lighting is incredibly important when camping out under the stars in the wilderness because it will be pitch black without any light pollution and these Biolite Alpen Glow USB Lanterns will help light a path for you or give a brilliant, understated lighting in your tent or around a campfire. These rechargeable lantern delivers ambient and task-based lighting, and it is all inspired by nature. Each one boasts high-efficiency ChromaReal LED technology which can accurately render the colours in your environment with the glow of warm natural light.
There are some impressive and innovative features to these Alpen Glow USB Lanterns from Biolite (from $59.95) and this includes the ability to shake the lantern and the internal accelerometer unlocks additional features like Candle Flicker or a mesmerising rotation of colour. The diminutive size of the 250 lumen version makes it easy to pack and ready for the backyard or the backcountry. The 500 lumen is just as portable but is slightly larger than its smaller counterpart so you should factor that in if space is of a premium on your next camping trip.
With nature inspired glows, the AlpenGlow Lantern blends colours together to recreate your favourite sunrise and night skies and make for a much more relaxing environment in which to unwind in the great outdoors. The 6400mAh battery of these lanterns can double as a powerbank so you can charge devices in a pinch and the design is informed by Biolite's research and development in sub-Saharan Africa meaning they can deliver high-efficiency illumination that gets you the most light for the least energy and the best bang for your buck.