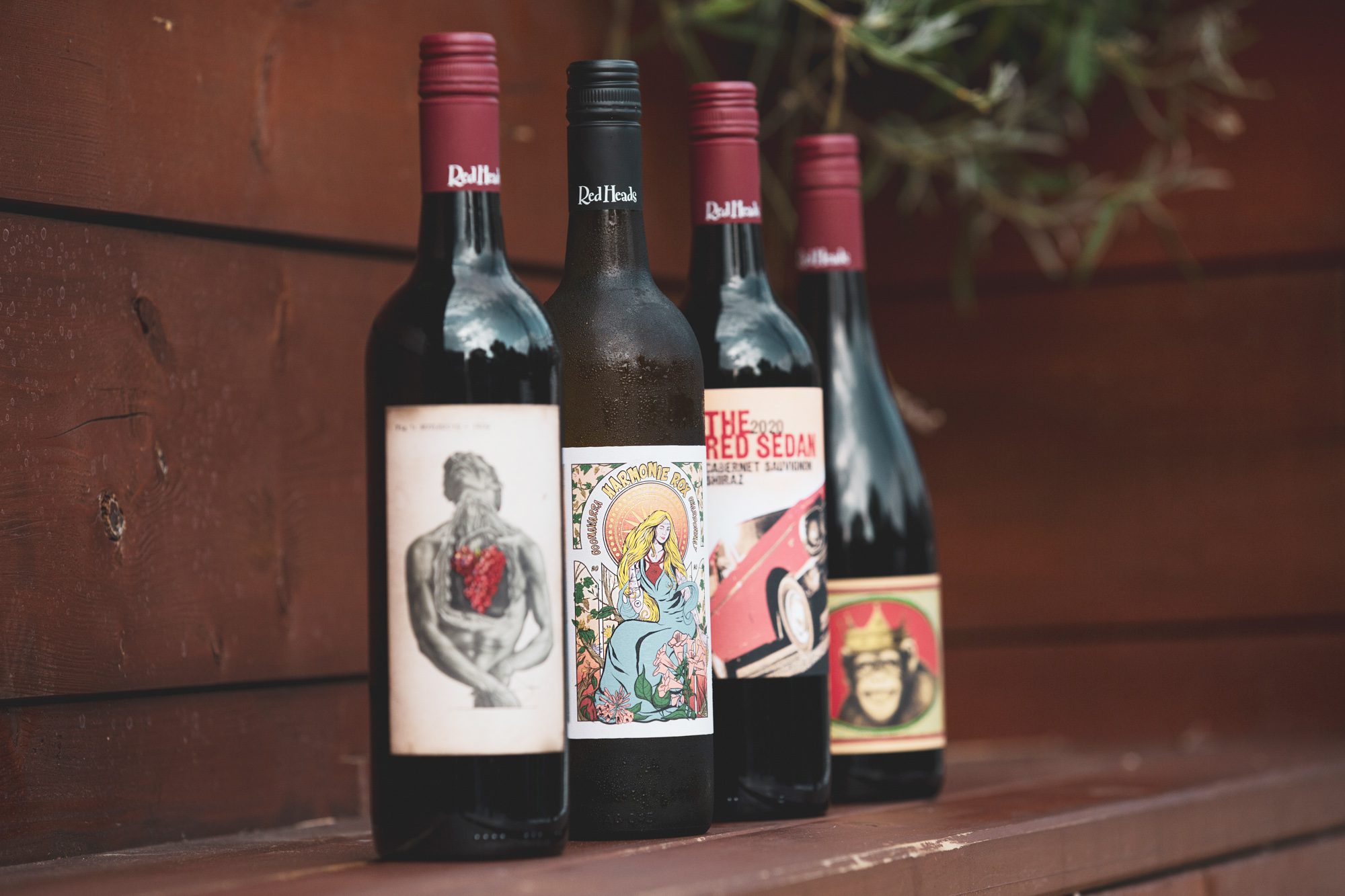 RedHeads
wines of soul, character and personality. Sustainable, vegan, mass green-creds.
RedHeads pride themselves on being the winemaking movement, liberating the finest grapes from around South Australia. We craft these parcels to form wines of soul, character and personality. Sustainable, vegan, mass green-creds.
RedHeads is owned by the Laithwaite family. We are a family  business with family values and long-term investment outlook  – quality and sustainability comes first. 
The Laithwaite family has vineyards & wineries in South  Australia (all RedHeads') as well as in Bordeaux and England. 
Tony Laithwaite, founder, started in 1969 importing  Bordeaux Chateaux direct to customers in the UK and bought his first Bordeaux estate in the early 1980s.  Now one of the most  highly awarded wines in the region winning the prestigious  Paris Grand Prix d' Excellence twice!
The Laithwaite Family's first investment in South Australia  was in early 2000's when they purchased a restaurant  building in McLaren Vale called "Redheads" and turned it  into a winemaker's playground.   
This was the next step for the Aussie Flying Winemakers that  came home after working for the family in French coops in the  1980s/90s. 
Tony and Barbara's eldest son, Henry Laithwaite cut his teeth  making wine in McLaren Vale and still oversees the RedHeads  Wilson Gunn lab. He now has a premium vineyard in Marlow, England making award winning English Fizzel. 
The youngest son, Tom, is now our team mentor and has  taken the winery to new heights investing in state-of-the-art  green winery in Angaston. 
RedHeads unlike some other so-called 'green' wineries. And we have the gongs to  prove it. 
We are powered 97% off-grid by some big-ass solar panels  on the roof. Yep, we get a LOT of sun in the Barossa.  The remaining 3%? Green power of course!
Our water management system is state-of-the-art. 
We capture 2.7 million litres of extra water from our huge,  angled winery roof that can be reused around the winery  and site. While the dam itself, with a storage capacity of 3.8  megalitres, is used to supply water for irrigation. 
Our List of Awards and Achievements
• December 2019 – RedHeads won the top award  for Water Management in Wine at the 2019 Drinks Business Green Awards
• July 2020 – joined Sustainable Winegrowing Australia.
• September 2020 – Signed up to GreenPower  for 100% renewable Energy
• December 2020 – RedHeads won a commendation  for its work on renewable energy at the 2020 Drinks Business Green Awards.