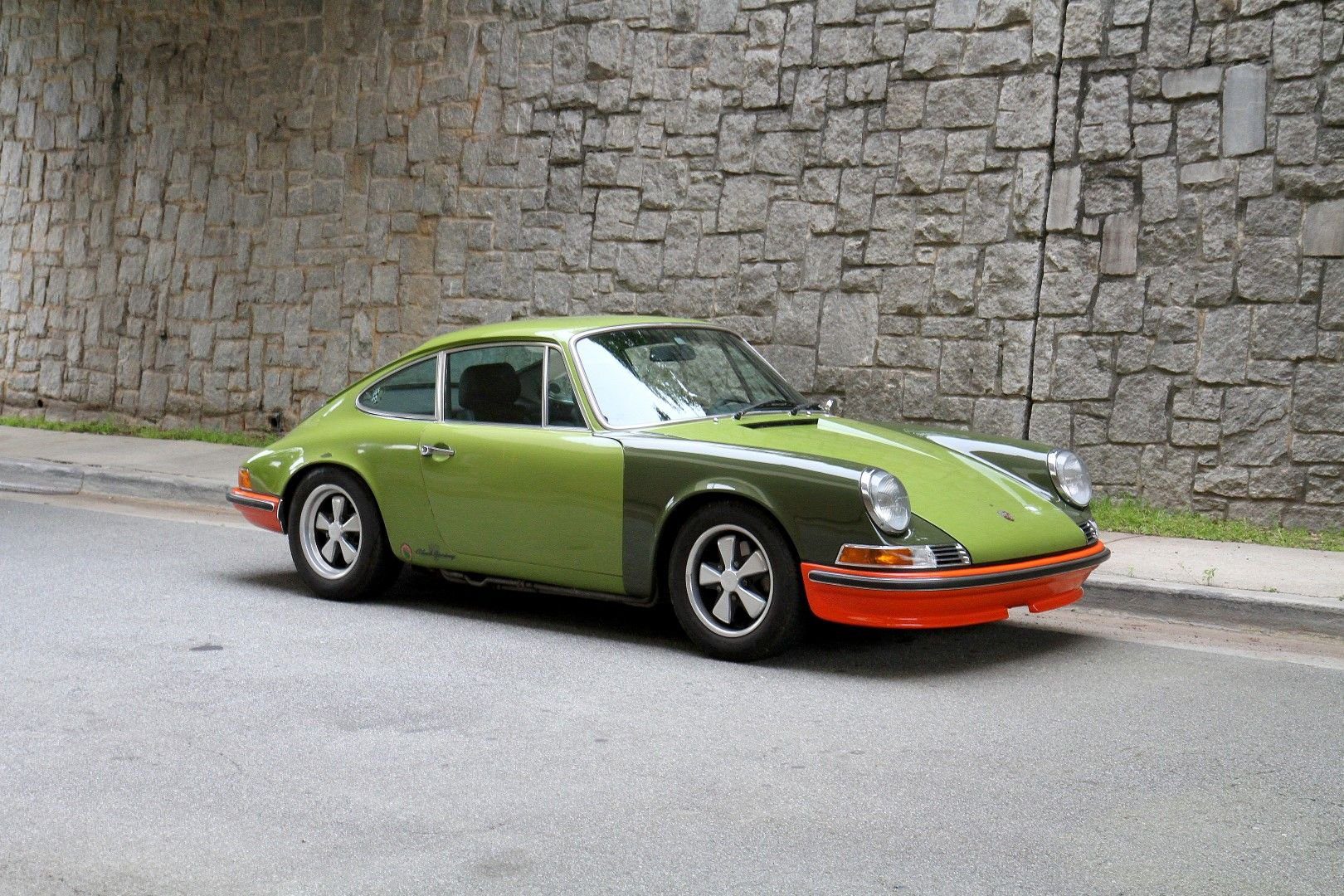 1969 PORSCHE 911
This 5-speed manual transmission has just 67,778 on the clock and is presented in remarkable condition given that it is now over half a century old.
This 1969 Porsche 911 from Motorcar Studio has a golden green paint job that really sets it apart from the crowd and will make it the stand out vehicle in any classic car collector's lineup. Motorcar Studio is pleased to offer this 1969 Porsche 911 T that is a non-sunroof coupe release and boasts an unparalleled aesthetic impact. This 911 was a successful vintage racer for many years, but it was never abused or damaged and it will make an excellent addition to any Porsche aficionados collection.
Old School Cool in Spades
We've written about a lot of Porsches here but seldom are they as visually impactful as this 1969 Porsche 911 from Motorcar Studio. If you're looking for the cornerstone piece for your line up that is the real head-turner, you might just have found the prime candidate for the job. The current enthusiast owner has utterly transformed it into a period-correct hotrod with a built 3.2 mated to a five-speed type 915 gearbox. The bodywork is solid and straight with a rally-inspired paint scheme – the rare original colour of golden green (showing some patina) can be witnessed in the base.
This Motorcar Studio 1969 Porsche 911 has a price of $89,900 so whilst it definitely doesn't come cheap, at least there's a bit of change from $100k and you'll be getting one of the most spectacular machines on the market in our humble opinion. The fenders and rear decklid are Porsche Nato Green for a touch of authenticity and the front and rear bumpers are Porsche Continental Orange similar to the 1973 911 RSR Martini cars. The wheels are custom made with deep sixes in the front and sevens in the rear. The seats are vintage Recaros with the sought-after Recaro Spectrum fabric. All gauges, lights, etc. are fully functional and the car has working ventilation and heat.
The impressive power comes from a 3.2 Carrera engine running Motronic built by an Atlanta-area Porsche specialist approximately 3,000 miles ago and this purpose-built 911 hotrod is ideally suited for weekend runs to the mountains and fully eligible for most vintage rallies that you can think of. The current owner recently completed two 1,000 miles rallies – namely, the Targa Carolina and Gator Crawl down in Florida – and the car performed flawlessly so if you're the one lucky enough to get your hands on it, you're getting yourself a beauty.