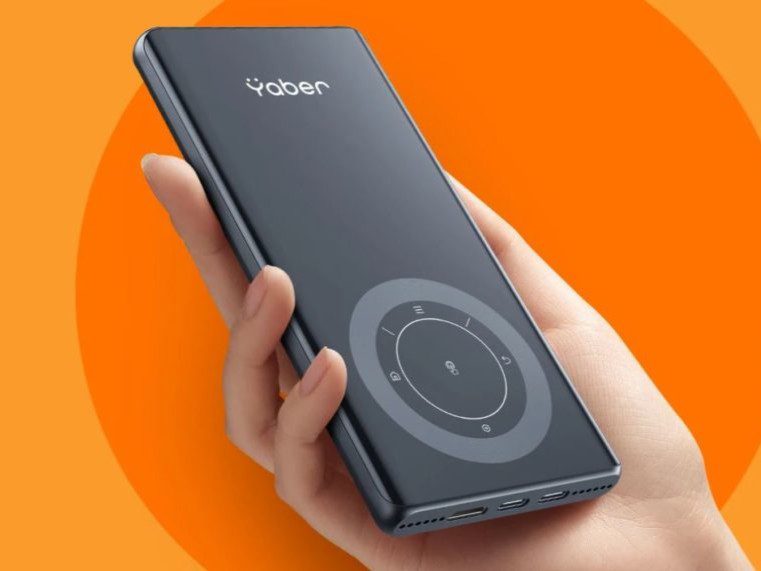 Yaber launches Pico T1 pocket-sized projector for on-the-go movie watching and game playing
Yaber unveils its slimmest portable entertainment projector yet
Entertainment projector specialist Yaber is set to launch its first-ever truly pocket-sized projector with 0.52'' only thickness, the Yaber Pico T1, on 10 August.
Priced at $399 / £325* / €379*, but with limited discounts available for a short time only, the Yaber Pico T1 is generously equipped, with touch screen, smart OS, Wi-Fi, Bluetooth, USB Type-C ports and HDMI(mini) port for use with every device in the home. Created for outdoor use – in the garden or streaming movies and playing games while camping, the Yaber Pico T1 is perfect for traveling and taking on family adventures, thanks to its ultra-thin size and design.
All-day power in a slimmer smartphone-sized device
Pico T1 is Yaber's slimmest portable projector yet at just 13.1mm, which is a super thin 0.52 inches. Designed to provide the highest-quality images, the Yaber Pico T1 packs a lot of power into a device that is the convenient size and weight of a smartphone.
Measuring just 150 mm x 75 mm x 13.1 mm, the Yaber Pico T1 weighs only 150g – about the same as three eggs – so is an ideal "grab and go" projector that fits comfortably into pockets or can be taken out with you in a backpack, anywhere you go this summer.
The Pico T1 comes in ceramic black and its rough and robust resistant mirror texture design of PP Composite surface material makes it stronger, lighter and scratch-resistant. Leveraging a smart operating system that works wirelessly, boosted by Eshare App providing wireless connection compatibility of Android, Windows and iOS-enabled devices, users can connect their Yaber Pico T1 to everything in their home no matter what the operating software is.
All-day usage and simple plug-and-play with multiple ports for all devices
The Yaber Pico T1 has been designed as a power bank supported device, so using PD3.0 or QC2.0 as its power supply, users can enjoy the projector all evening after a day of watching movies while camping.
The main priority for any projector is image quality and, in a sufficiently darkened room, the Yaber Pico T1 offers clear visuals with vibrant color. Built-in speakers can be boosted through hook-up to external speakers for cinematic sound and there's a great selection of physical ports to plug into laptops, games consoles, mobile devices and tablets for use on any device. The HDMI (mini) port connects with different game consoles and devices (e.g. Xbox Series, Nintendo Switch, PS 5, etc.) so you can take it with you to use at friends' houses.
Simply plug and play, with a convenient remote control that can be substituted for easy-to-understand and follow touch screen controls, the Pico T1 can be used by kids – big and small.
Bigger image
The magnetic tripod provides 360-degree projection angle so you can watch the image on any and surfaces easily. Choose to play games while lying in bed, with all the action on the roof, or set up the projector tilted on a coffee table to watch a movie on the opposite wall or even on the floor. The screen is also auto-rotate so you don't need to pick a flat wall surface to project onto and/or have the Yaber Pico T1 propped upright.
Front and rear projection modes give users a projection of up to 100 inches from just 6.6 feet away. While there is no auto focus on the Pico T1, it has manual focus with vertical auto keystone correction function to automatically detect and correct any distorted image, aligning the distortion to give users the right image.
A standard quality qHD resolution of 960 x 540 pixels brings images to life and 32GB ROM provides plenty of space for application and data storage. The 85%+ luminance uniformity also offers a more comfortable visual image that won't harm or tire users' eyes even if they have been playing/watching for 24 hours+. The 30,000 hours LED lamp life enables continued use of the Yaber Pico T1 for 1,250 days, which is around 4 years – a bargain for such a discounted product offering.
And that's not all, as Yaber has also thrown a generous selection of accessories in with this device, including a padded bag to store the Pico T1 when it is not being used, infrared remote control and power bank(QC supported)a Type C charger, quick start guide and magnetic tripod.
Hassle-free functionality, and quick and easy plug-and-play setup, makes the Yaber Pico T1 a must-have portable projector for this summer, and beyond.
The Yaber Pico T1 pocket projector will retail for $399 / £325* / €379*, via Yaber and major retailers including Amazon. Ahead of the official launch and shipping, which will begin around mid-September 2022, the pocket-sized model will be available for pre-order on Indiegogo from 10 August 2022: