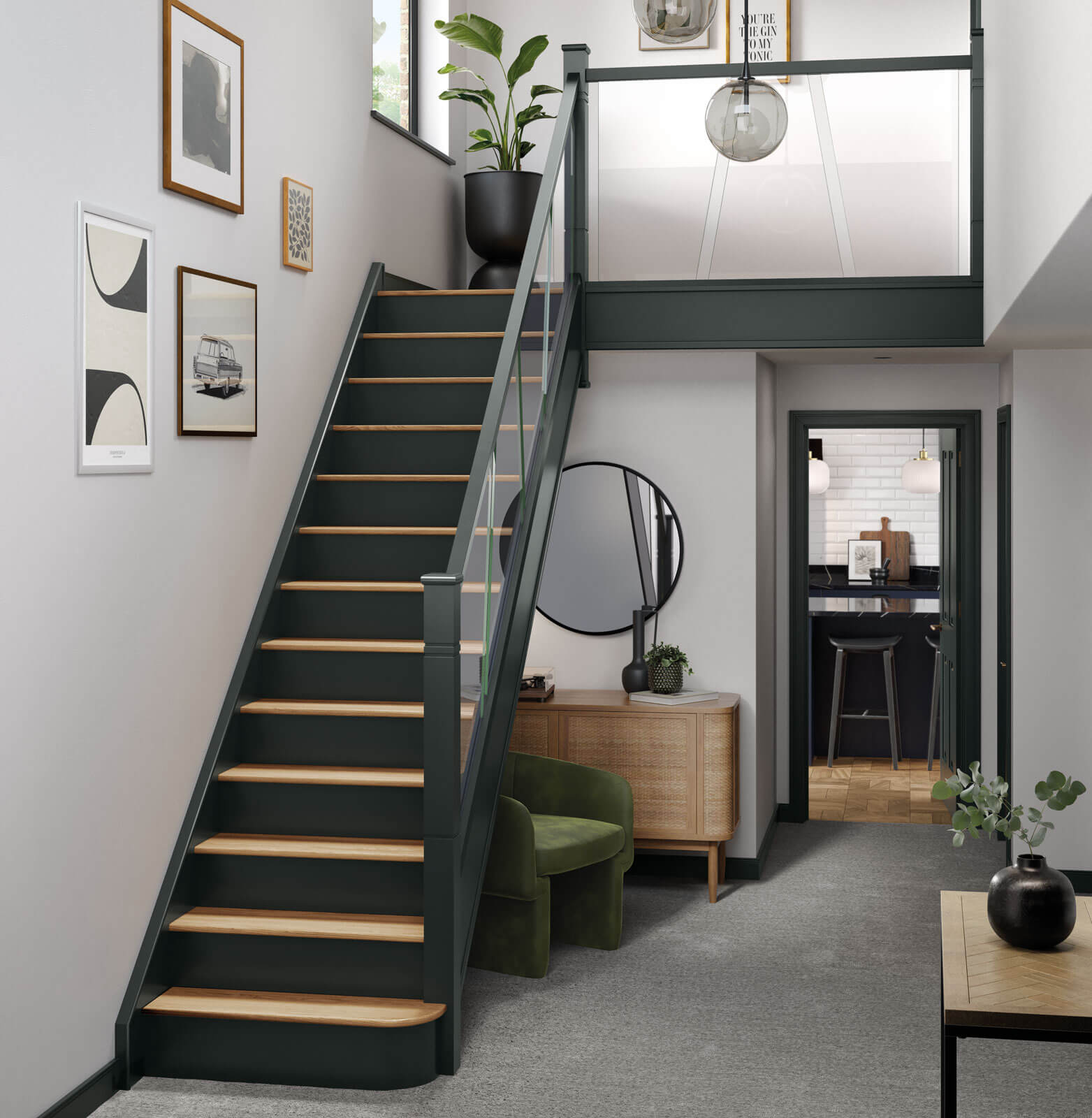 Neville Johnson" alt="
Neville Johnson
"/>
STEP INTO THE NEW YEAR WITH THE MIXED MATERIALS STAIRCASE TREND
This year, celebrate the beauty of bespoke by investing in a staircase renovation which will instantly elevate any living space.
Whether you opt for contemporary, traditional, or somewhere in between, a high-quality staircase makeover can inject instant personality into the home and this year will see a growing trend of juxtaposed, contrasting materials dominating homeowner's wish lists, according to the renovation experts, Neville Johnson.
Neville Johnson's newest glass staircase design features their exclusive Molto glass balustrade and painted risers finished in a decadent Lithadora blue. Contrasted against natural oak treads, a beautifully atmospheric hallway has been created.
The a-symmetrical lines of the glass panels add a contemporary flair to a traditional glass solution. The new staircase offers a true statement that oozes sumptuous sophistication.
Gareth Betts, Staircase Designer at Neville Johnson said: "The staircase in your home is often taken for granted or overlooked. However, you'd be surprised how much a bespoke staircase renovation can transform the heart of your home. Whether homeowners are wanting to take a traditional approach, or go down a more modern route, the design options are endless when you go fully bespoke.
"The staircase is the first impression to the home, so choosing a modern design, such as our Molto Glass balustradeis guaranteed to breathe new life into the hallway. We've seen an increasing trend for mixed materials in the home and contrasting glass with darker materials can give every step a spectacular new look."
Neville Johnson staircase renovations can be completed within 48 hours after design approval and with over 35 years' experience in creating modern renovations, Neville Johnson is the market leader in bespoke staircases.
The brand's staircase renovations combine the flair of the UK's top designers with the time-honoured skills of traditional craftsmen, all brought together with your personal selection of materials, colours, and finishes.
For more information, please visit www.nevillejohnson.co.uk