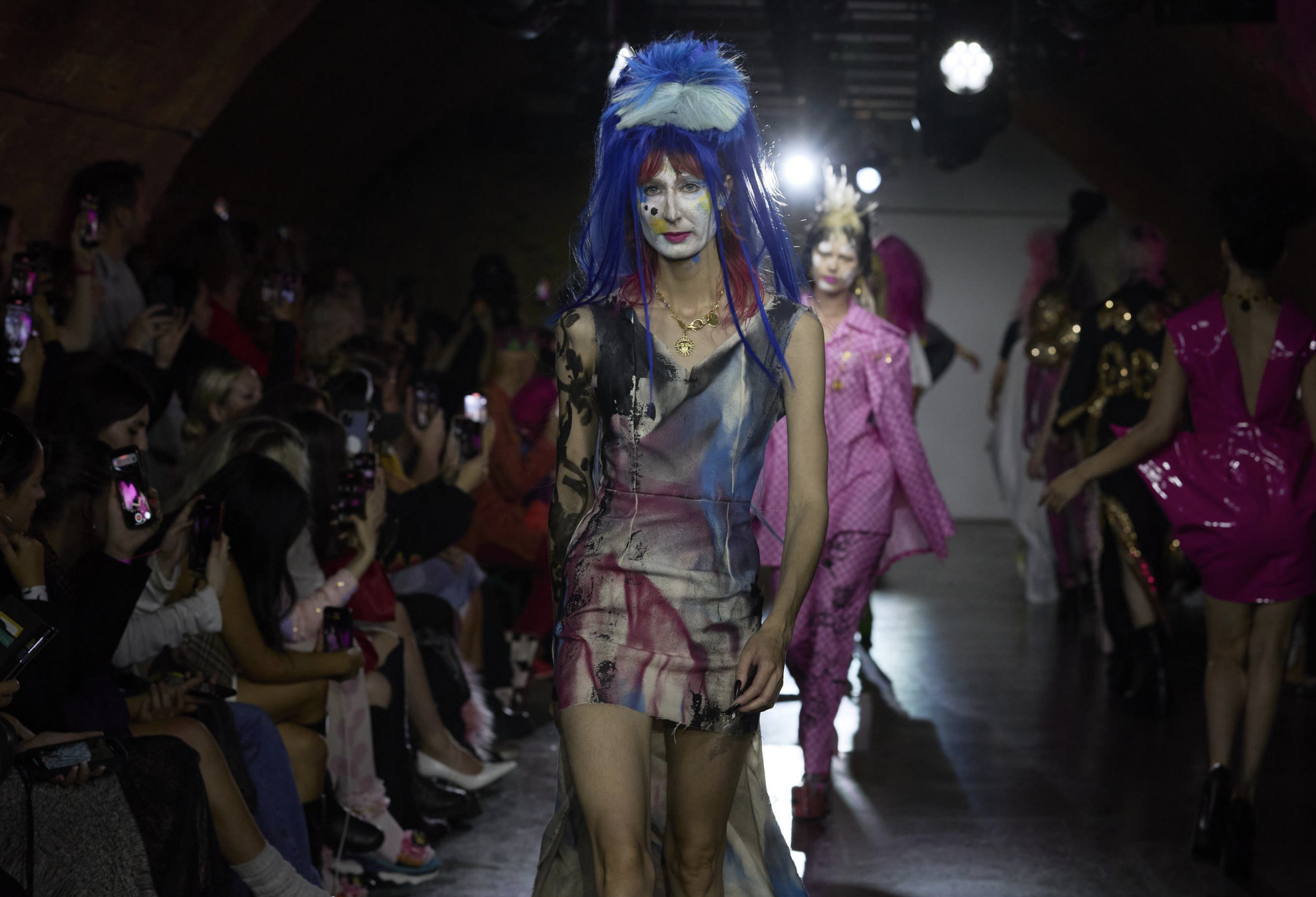 Adam Frost's 'Art is Abundance' SS24 Collection
Redefining Boundaries: A Dive into Adam Frost's Emotional Tapestry for SS24
Fashion is more than just clothes; it's a story, an expression, a canvas on which designers lay bare their souls. This season, Adam Frost's SS24 collection, 'Art is Abundance,' tells a tale that reverberates far beyond the runway, striking a chord with onlookers and stirring emotions deep within.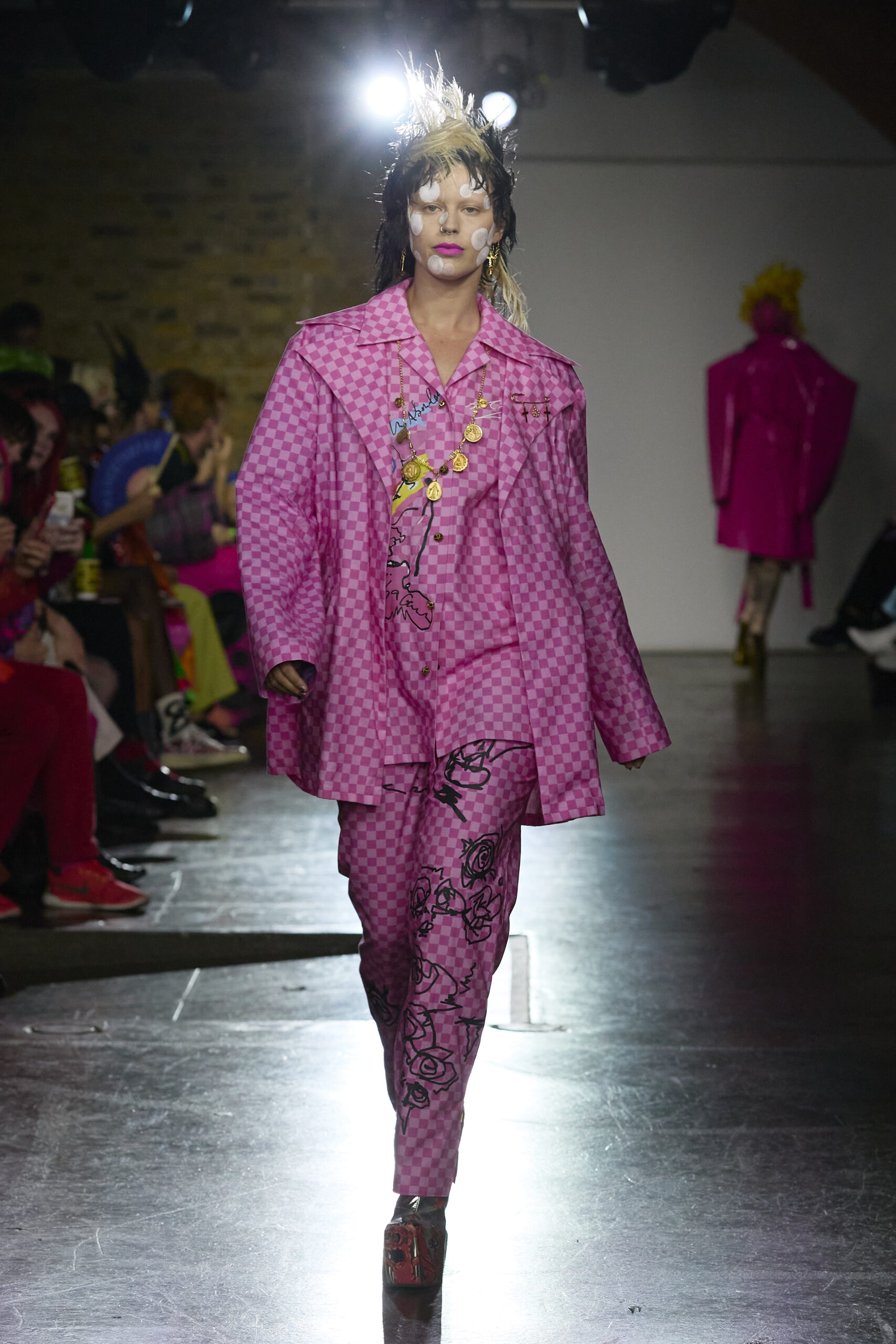 Beginning with the designers candid confession, "why do I do this to myself? I've got to watch my fucking health," it was evident that Frost's collection wasn't just about garments. It's about a battle — an inner turmoil juxtaposed with the abundance of creativity and expression. Mental health, often a whispered conversation, finds its loudspeaker in Adam's work, making fashion not just about aesthetic but depth and vulnerability.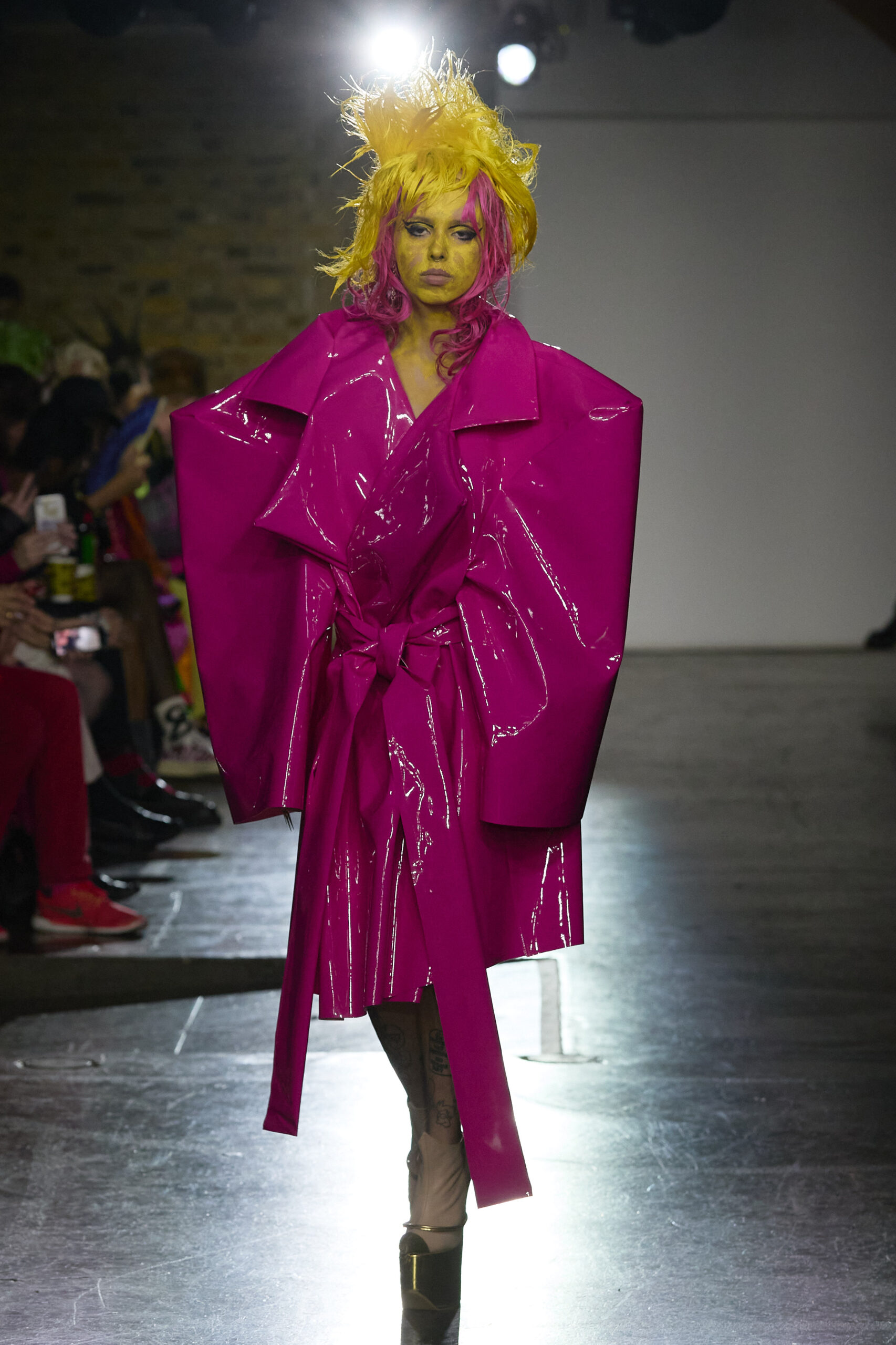 From the moment the PVC power-shoulder coat graced the runway, it was clear that Adam was not holding back this season. The blend of gender-fluidity in the pieces speaks to a world moving beyond binary definitions. Not to be overshadowed, the impeccable tailoring on display showcased Adam's unwavering commitment to craftsmanship. The fusion of modern digital printing techniques and the hauntingly raw 'Mania Faces' print gave us a visceral experience of the designer's world — where chaos and art intertwine seamlessly.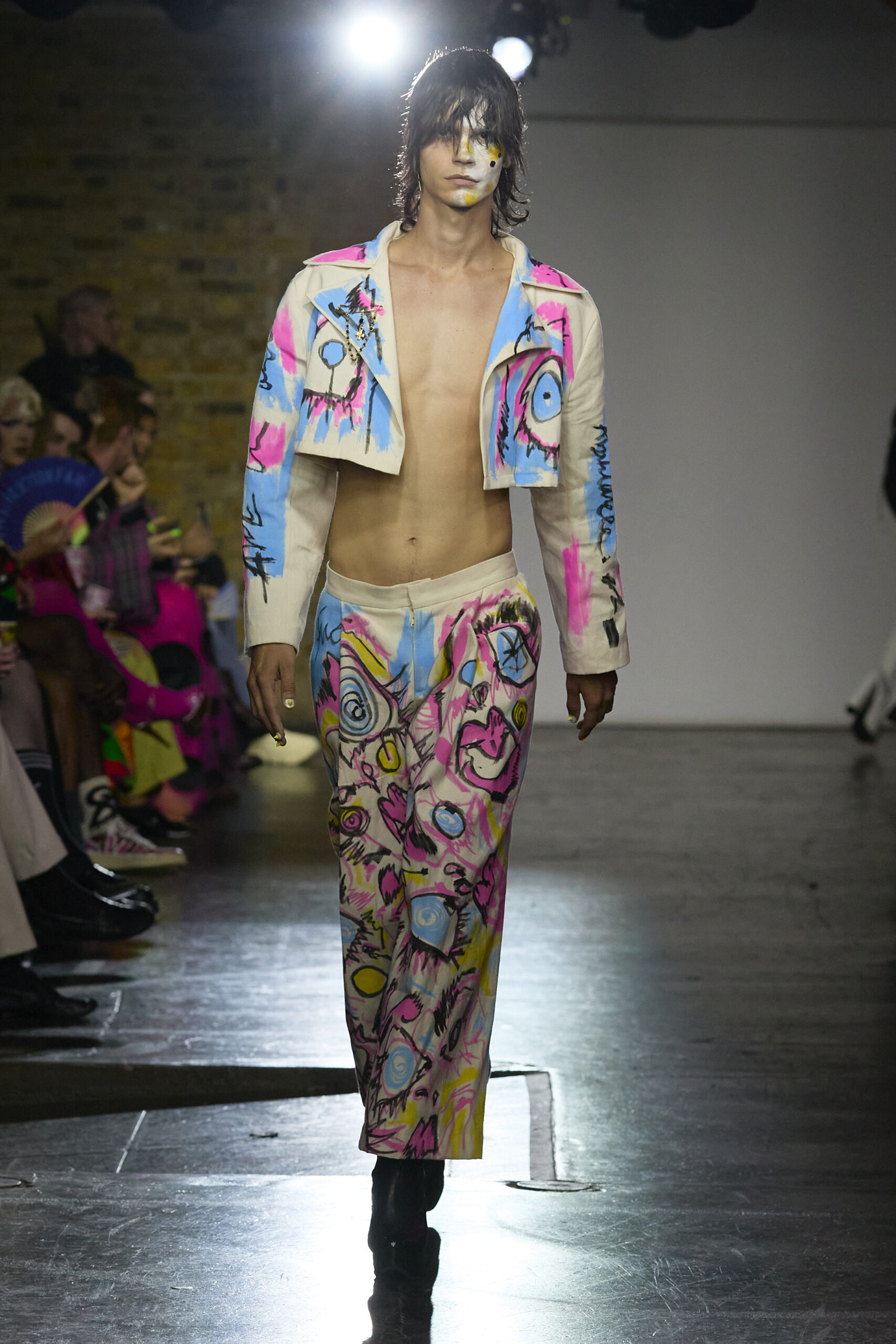 As with any masterpiece, the inspiration derived from the greats is palpable. The whimsical homage to Amy Winehouse through exaggerated hairdos juxtaposed against the vivid co-ords was nothing short of genius. Delving deeper, the subtle nods to stalwarts like Queen Elizabeth I, Cindy Sherman, and the iconic Grace Jones created a tableau of power, individuality, and opulence.
The strategic partnership with Era of Mystique added another dimension with their gold jewels, which, much like the rest of the collection, were anything but ordinary. They were a testament to the grandeur that Adam envisions in every piece he crafts.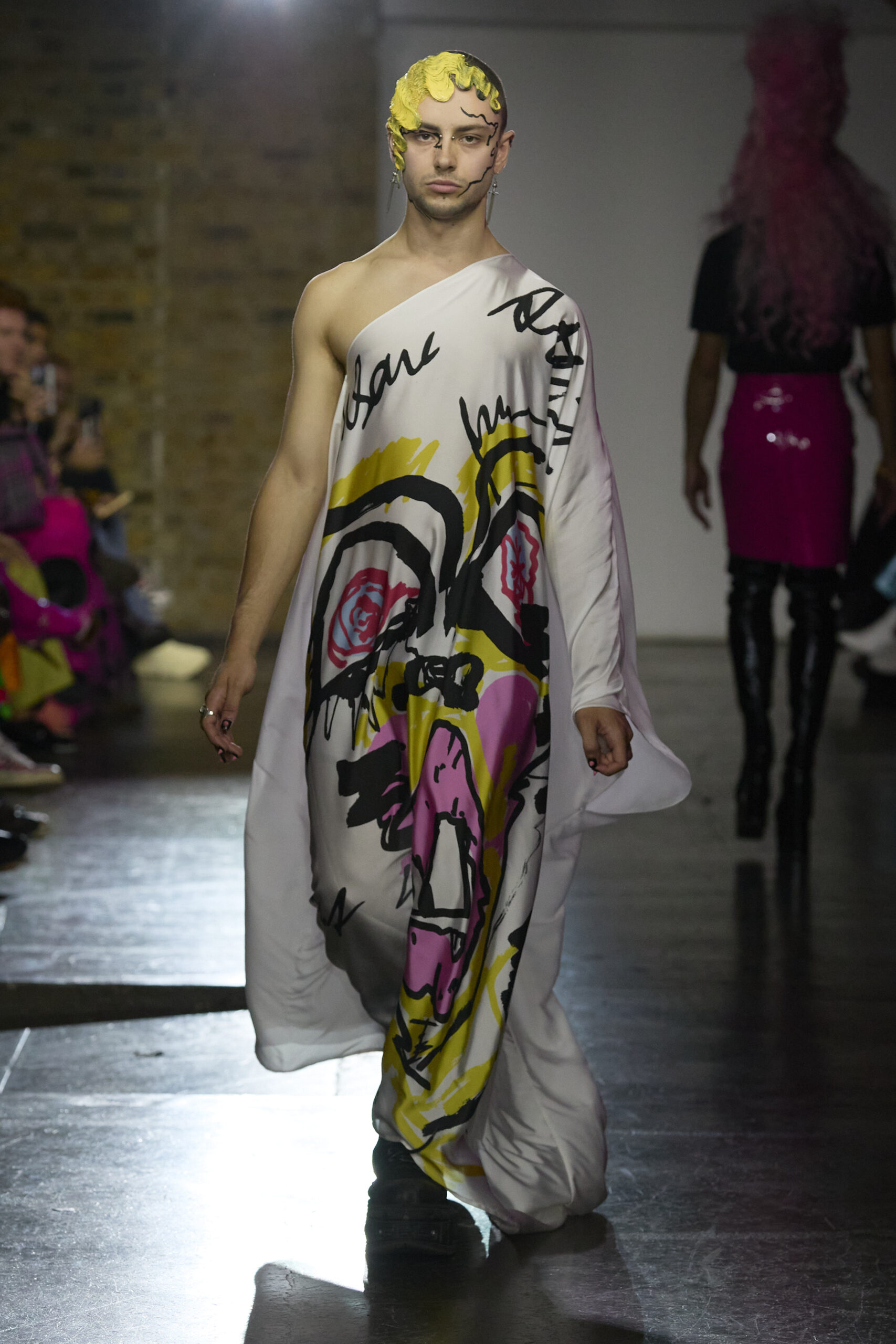 However, what really struck a chord was the seamless fusion of casual streetwear with couture sensibilities. The introduction of casual, wearable pieces in collaboration with London streetwear store Imprint, showcased Adam's versatility. He effortlessly blurs the lines between daily wear and high fashion. The theatrical couture-inspired pieces — especially the PVC and plaster dress created with Olivia Strange — were an embodiment of resilience amidst chaos. The gold sequin 'Bobble Dress,' which contorts and reimagines the wearer's silhouette, was audacious and encapsulated Adam's philosophy of 'abundance.'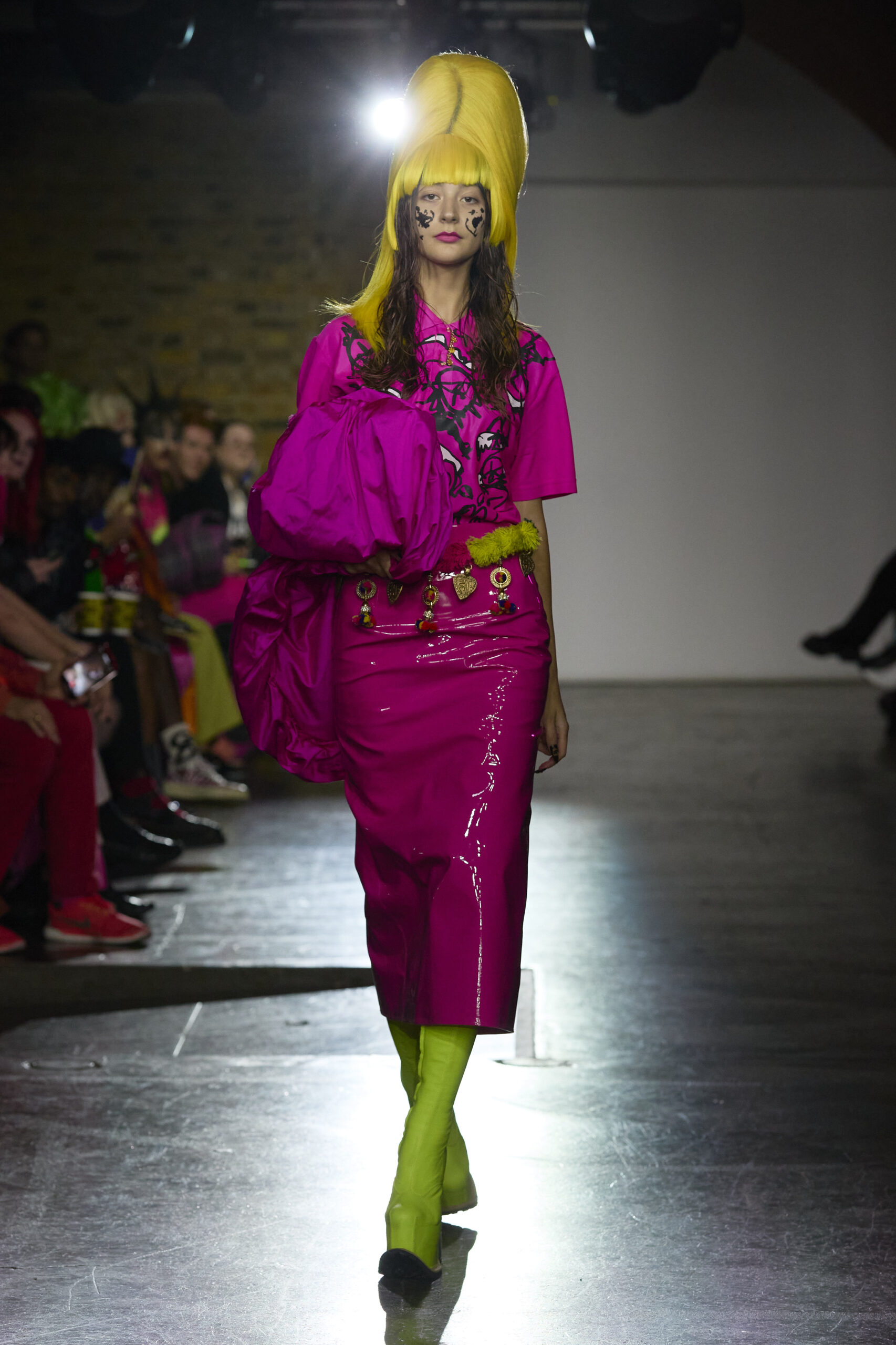 Schwarzkopf Pro's collaboration ensured the hairstyles weren't just complementary but were the crowning glories of each look. The concept of 'the hair is the hat' brought forth an entirely fresh perspective on accessorizing and enhancing an outfit.
In conclusion, 'Art is Abundance' for SS24 was not just a collection; it was an emotion, a statement, a revolution. Adam Frost has once again redefined boundaries, proving that in fashion, as in life, 'nothing is ever enough.' This season, we didn't just witness a show, we experienced art in its most abundant form.