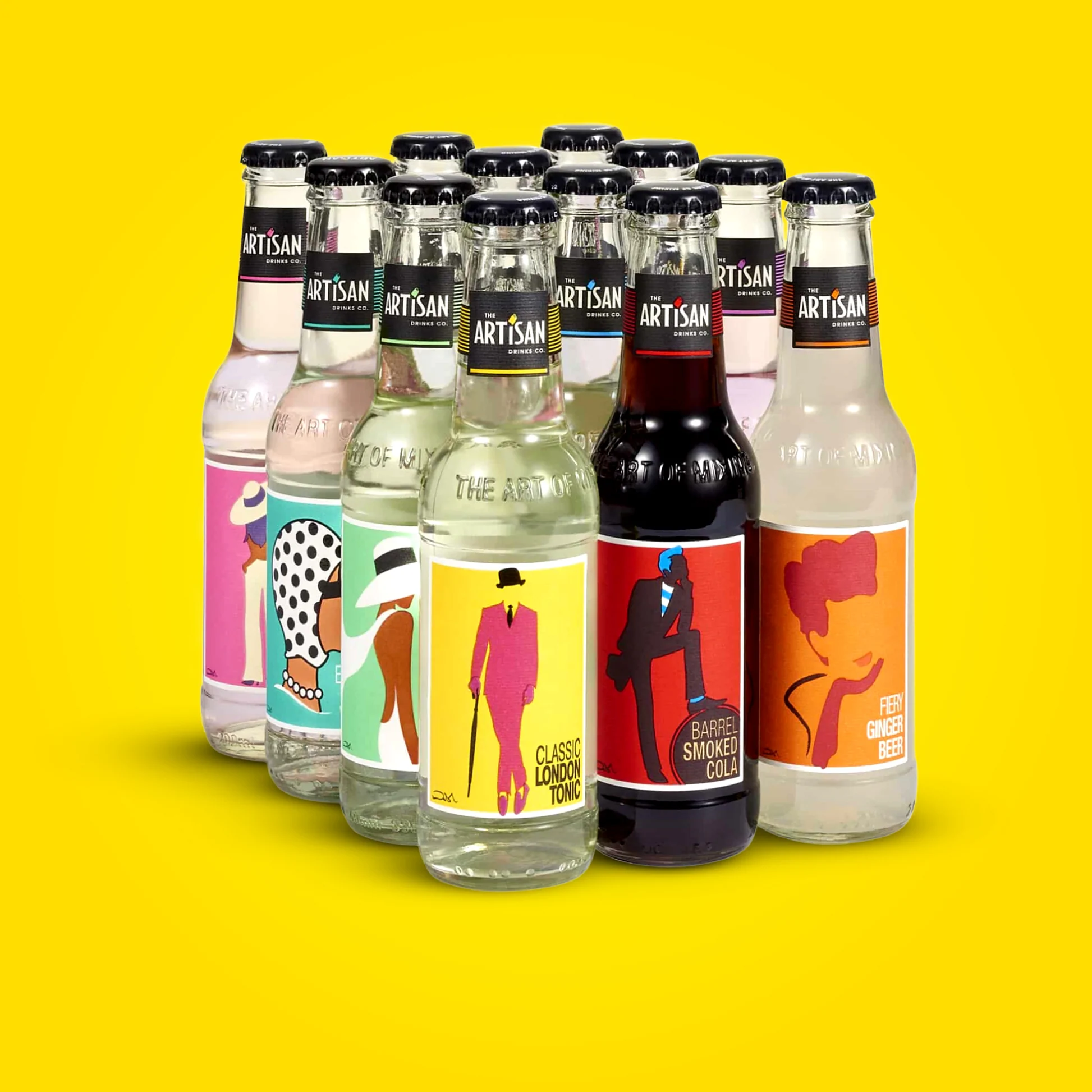 BRIGHTEN UP YOUR JANUARY WITH ARTISAN DRINKS MIXERS
The Artisan Drinks Company use only the finest 100% natural ingredients and unique flavour combinations to elevate both alcoholic and non-alcoholic spirits. Artisan Drinks start with the spirit in mind, carefully crafting the range to ensure they partner beautifully.
Artisan Drinks mixers will be sure to brighten up your January with their vibrant bottles. The bottles feature iconic images of internationally acclaimed artist 
Alan Walsh
, renowned for his images of glamorous females and quirky gentlemen. Alan, whose gallery is in Monaco, has created his own unique niche with one leg grounded in Art Deco and the other in Pop Art. The ten characters Alan has created have their own backstory and something in common with the flavours they represent. 
— AGAVE LEMON TONIC — 
Provides a perfect partner for a top tequila, mezcal or spiced gin
Agave Lemon Tonic was created with the finest spirits of Latin America in mind, and is a top tonic for tequila or a sharp-suited partner for gin. A citrus kick of natural organic lemon, fresh chilli and rock salt make up this quintessential Latin mix 
— AMALFI LIME TONIC — 
Perfect partner for a craft gin with citrus botanicals or a tequila
Amalfi Lime Tonic was inspired by the fresh flavours of the Amalfi Coast with zesty lime, peppery rosemary, lemon verbena and a fruity finale of fragrant bergamot
— CLASSIC LONDON TONIC — 
As the name suggests, this tonic is perfect for a quality London Dry Gin
This tonic combines complex natural citrus flavours with subtle botanical notes to create the perfect canvas for drier, premium gins.This classic tonic recipe is made with a natural blend of three citrus flavours to enhance and complement the botanicals in gin
— PINK CITRUS TONIC — 
This Pink Citrus Tonic transforms a juniper forward gin, white rum or tequila
The award-winning Pink Citrus Tonic has an unmistakably fresh aroma of pink grapefruit creating a bold statement from the outset. The citrus combo comes from blood orange and lemon and ends with a flourish, thanks to its natural qualities
— SKINNY LONDON TONIC — 
A naturally less sweet accompaniment to round out the flavours of your spirit free gin, sloe or contemporary gin
This low calorie tonic is a blend of aromatic botanicals with orange & lemon essences, combined with a lower amount of fruit sugar to balance the quinine's crispness with a rounded aftertaste and dry finish. With only 17 kcals per 100ml, the crisp, clean aftertaste brings out the flavour in your favourite craft gins
— VIOLET BLOSSOM TONIC — 
Pairs perfectly with floral or citrus gin, as well as vodka or dry vermouth
A blossom for all seasons, this violet virtuoso combines floral flavours in elderflower, apple & violet blossom, fragrant herbs and refreshing citrus notes to create an elegant bouquet. A subtle floral taste and aroma with a natural violet hue, the Violet Blossom Tonic is a great partner for a classic, green and fresh juniper forward gin
— YUZU TOKYO TONIC — 
The perfect canvas for Japanese Gins and Whiskeys,Vodka & Sake
Yuzu Tokyo Tonic was inspired by one of the world's most vibrant and creative cities this oriental fusion combines effervescent yuzu with aromatic black pepper and the warming notes of coriander 
— BUBBLY SODA WATER — 
This versatile mixer enhances a range of quality spirits – red vermouth, scotch, vodka or London Dry Gin
Whether you're making a Mojito or creating a Tom Collins, you'll need a good soda water. Combining effervescence and style, this soda comes with zero calories per bottle
— BARREL SMOKED COLA — 
The perfect partner to your favourite bourbon, amaretto, whisky or aged rum
Artisan Drinks have elevated the flavour by creating barrique barrel aged smokey top notes to complement the cola nut bitterness. The Barrel Smoked Cola is a southern classic that makes an exciting addition to your premium bourbon, whisky or rum 
— FIERY GINGER BEER — 
A bold partner for rhubarb gin, rum, vodka or bourbon
This uniquely spirited lady combines a classic, cloudy Ginger Beer with a hint of chilli. The combination of African ginger & chilli added to pure water and cane sugar makes the Fiery Ginger Beer