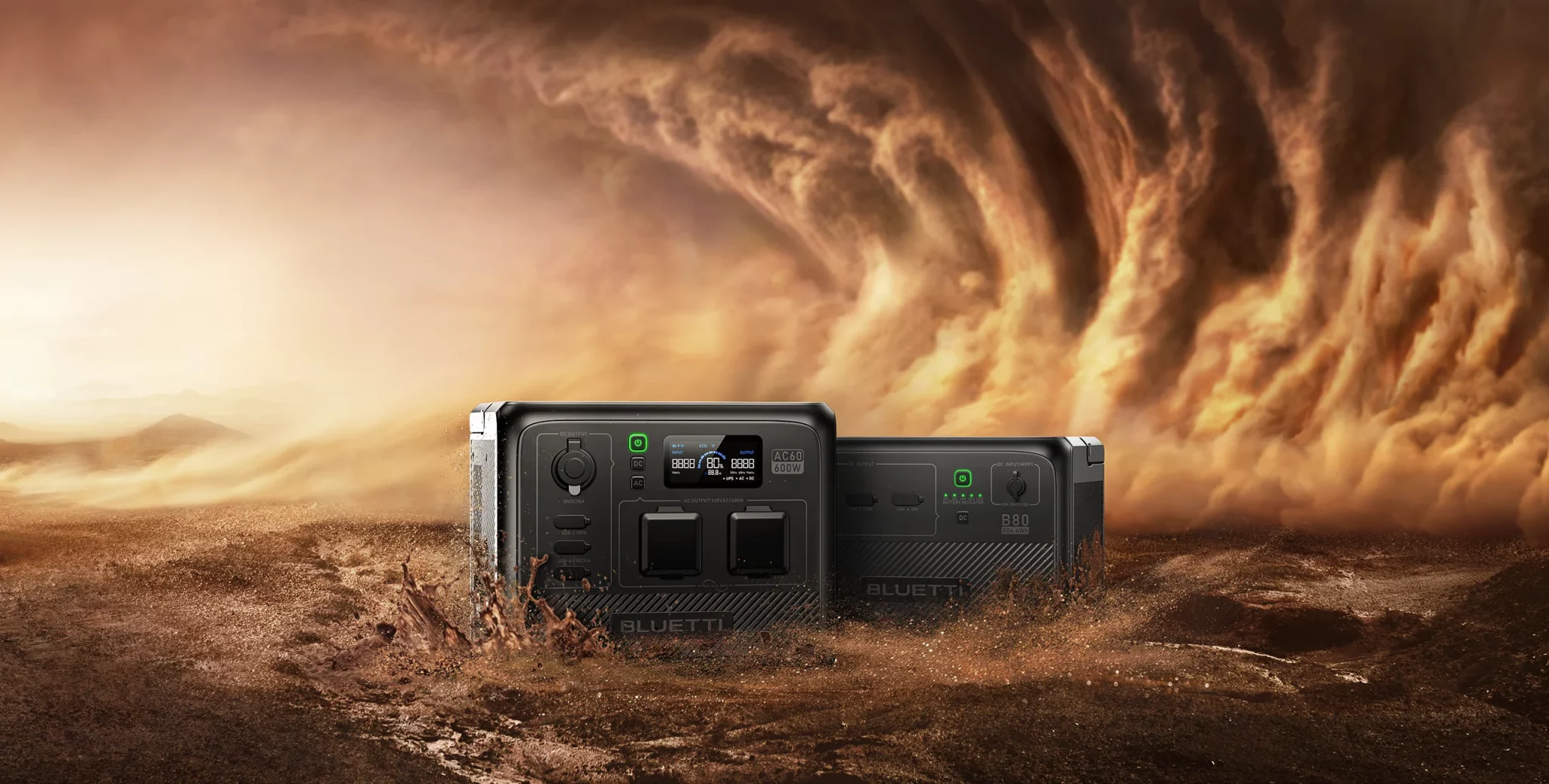 Bluetti AC60
Bluetti launches the AC60: The All-Weather Power Station, built for the outdoors
Featuring a 600W inverter, Quick charge mode and an IP65 rating, this is a power station that is both versatile, powerful, and compact
With over 10 years of industry experience in green energy storage solutions, BLUETTI today announces its latest product, the AC60 all-weather power station. This powerful and reliable power station is built to meet the needs of outdoor adventurers and anyone who needs a portable power source to stay connected in the wild. The AC60 is available to buy from the BLUETTI website for a debut price of £649 (RRP £699).
Many bundles including solar panels and back batteries are also available via the website, such as the AC60+B80 (Expansion Battery) for £1,248.00 (RRP £1398) With the B80 Expansion Battery
The AC60 is equipped with a 403Wh LiFePO4 battery that supplies 600W of power and can be expanded to 2,015Wh when combined with the optional B80 batteries. With super-fast charging, those using can stay powered for long periods in the wild. The power station has multiple outlets, including two AC outlets, a 100W USB-C port, a 15W wireless charging pad, and a 12V DC outlet. The AC60 also features a 'Power Lifting' mode that allows it to run high-powered appliances up to 1200W such as coffee makers, mini-fridges and sandwich grills.
With an IP65 rating, making it dust and water resistant, the AC60 is designed to withstand harsh weather conditions. Bluetti has carefully designed the AC60 with solid materials and waterproof rubber to seal the outlets, giving the user full confidence when using it outside.
The AC60 is also one of the fastest-charging portable power stations around. It has three charging modes – silent at 160W, standard at 255W, and turbo at 600W. Charging the device at 600W requires just 1.2 hours for a full charge. With support for car or lead-acid battery charging, it can even be charged when out and about. The AC60 also supports up to 200W charging using BLUETTI's PV120 and PV200 solar panels, and a wide range of third-party options available separately.
Bluetti also provide an App for the AC60, which allows users to check the power station's status, charge/recharge, and change settings. With its superior power, extended run time, built-in carry handle and weight of only 8.6kg, the AC60 is a game changer for outdoor enthusiasts and adventurers.
For peace of mind, the AC60 also comes with an industry-leading 6-year warranty and can last for over 3,000 life cycles when charging. Free shipping and a 30-day return policy is also offered upon purchase.
Pricing
The AC60 is available to buy from the BLUETTI website for a debut price of £649 (RRP £699).