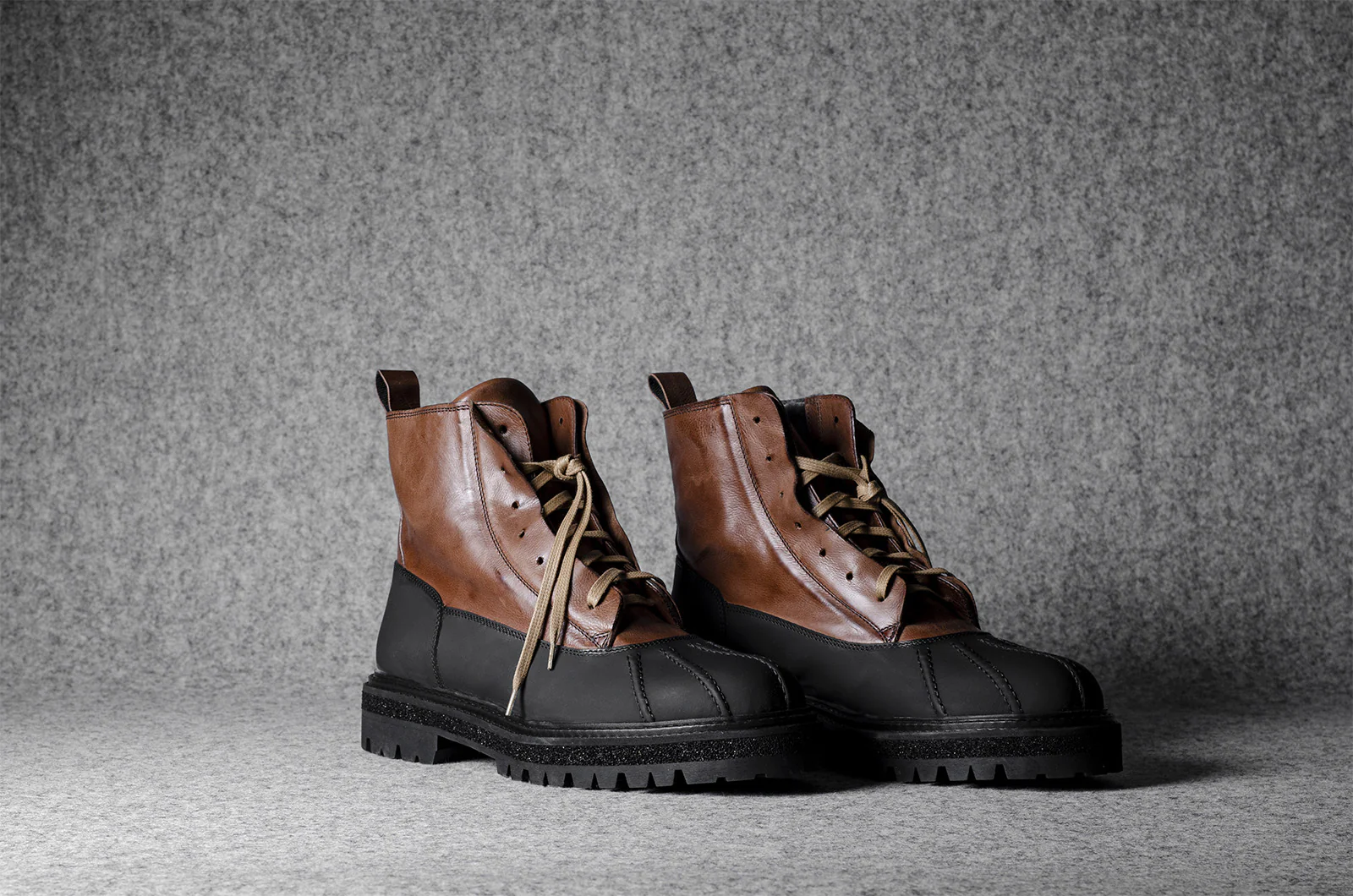 HARD GRAFT ALPINE DUCK BOOTS
Hard Graft craft some of the finest fashion and accessories out there and they've recently gone hard into the footwear market with some genuinely excellent pieces hitting their digital shelves. One of their most impressive to date is definitely these rough and ready Alpine Duck Boots which will be just as at home on the wilderness trail as they are enjoying some beers in your local tap room.
Priced at £349, these Hard Graft Alpine Duck Boots are big, brash and uncompromising in the extreme. They expertly straddle the line between style and substance and do so with aplomb. Billed as the 4X4 of footwear, these boots definitely won't let you down when push comes to shove.
Comfy, no-nonsense and brilliantly beefy – these big boots from Hard Graft have got it all and then some. No one is even going to attempt to step on your toes when you're rocking these bad boys and the quality of the materials used and craftsmanship is second to none throughout.
Even though they are not supposed to be glamorous, the Alpine Duck Boots from Hard Graft do happen to give you an extra bit of Pizzazz when navigating through the city or hiking trail. Each pair has been impeccably crafted in Italy and this is an artisan shoe with a human touch. Fits true to size.
These brash and brilliant boots are all-weather inclined so Hard Graft has lined the veg-tan calfskin uppers with thick Italian wool shearling and provided them with a Vibram Lug Sole just like the tires on that offroad 4×4. Features include a rubberised calfskin duck boot styling to help ensure water and dirt stay out, a cemented construction and reinforced toe-caps.
Despite their grandiose impression that these Alpine Duck Boots undoubtedly make, the fit is reassuringly snug across the top of the foot and offers unparalleled comfort day in, day out. You have a good amount of room for your toes to wiggle and you can go thin or thick socks depending on the weather outside. Need a new pair of adventure-ready boots in time for spring? These belters from Hard Graft get our vote here.