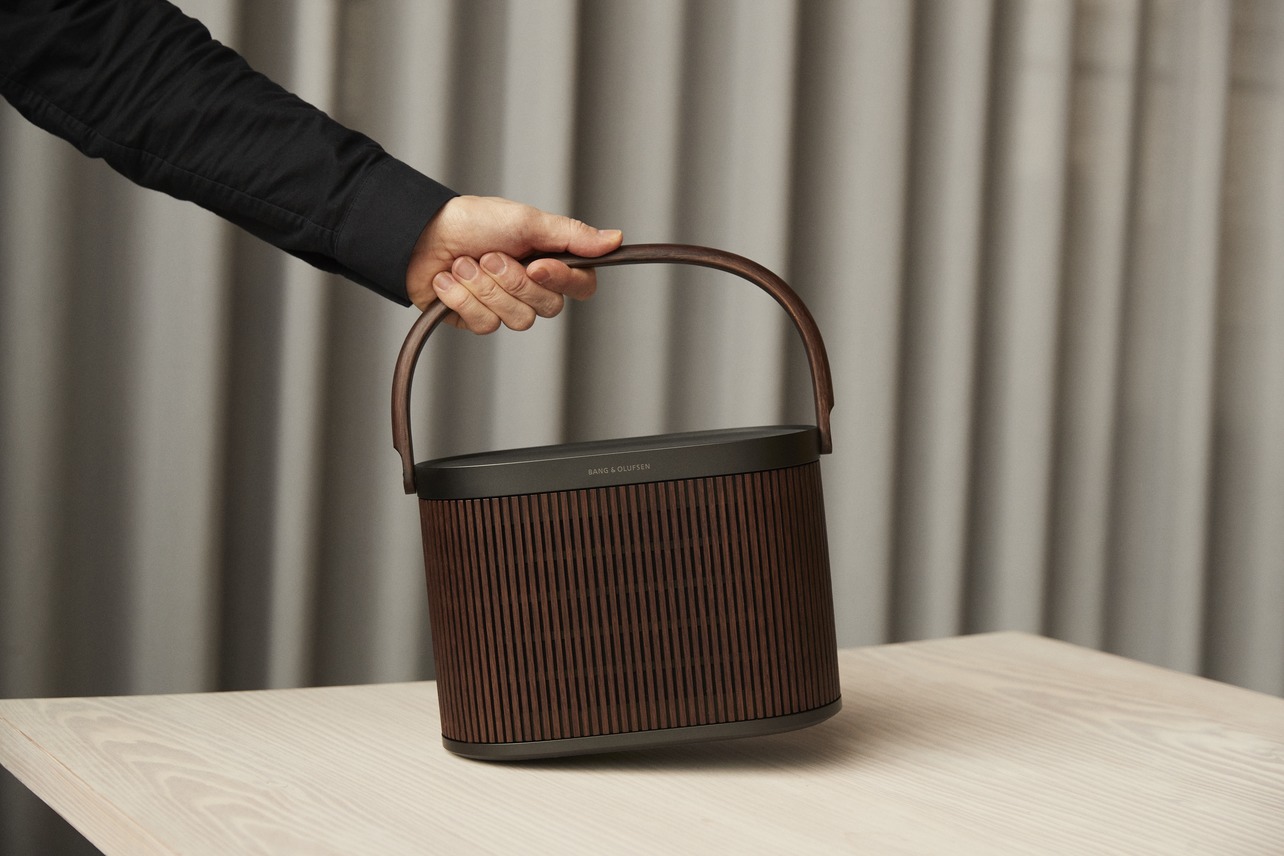 BANG & OLUFSEN BEOSOUND A5 SPEAKER
The Bang & Olufsen Beosound A5 is a high-end wireless speaker that delivers rich, immersive sound and, as always, represents the pinnacle of aesthetic excellence and audio performance. It's the perfect choice for filling a large room with music, or for creating a personal listening experience in your own space. Massive sound anywhere – in the home or outdoors. Beosound A5 is a Wi-Fi and Bluetooth speaker with long-lasting battery and wireless charging built-in.
The Beosound A5 Portable Speaker (£899) is made from top-quality materials, including aluminium and fabric. It has a sleek, minimalist design that will look great in any room. The speaker is also incredibly portable, courtesy of its built-in handle and battery life of up to 12 hours. So if you like to listen to your music outdoors, it won't let you down.
To use the Beosound A5, simply connect it to your Wi-Fi network and start streaming music from your favourite apps – it couldn't be more simple. You can also control the speaker with the Bang & Olufsen app, which allows you to adjust the volume, change the track, and more. It has the most powerful woofer in any of the brand's portable speakers. You won't just hear Beosound A5 – you'll feel it.
The Beosound A5 is a great choice for anyone looking for a high-quality wireless speaker. It delivers amazing sound, looks great, and is very portable. If you're looking for a speaker that will make your music sound better than ever, the Beosound A5 is the ideal choice in our opinion here at The Coolector and it is aesthetically unparalleled.
Here are some of the features of the Bang & Olufsen Beosound A5:
Rich, immersive sound
Sleek, minimalist design
Portable design with built-in handle
Up to 12 hours of battery life
Wi-Fi connectivity
Controllable with the Bang & Olufsen app
This portable powerhouse is purpose-built to bring it all together. Stream on WiFi with Airplay 2 or Chromecast. Multiple speakers? Use Beolink Multiroom to create soundscapes around the home. No connection? Bluetooth is just a tap away. Beosound A5 isn't just built to last – it's built to evolve. A modular design ensures that parts can be replaced, instead of you replacing the whole speaker. Win, win.