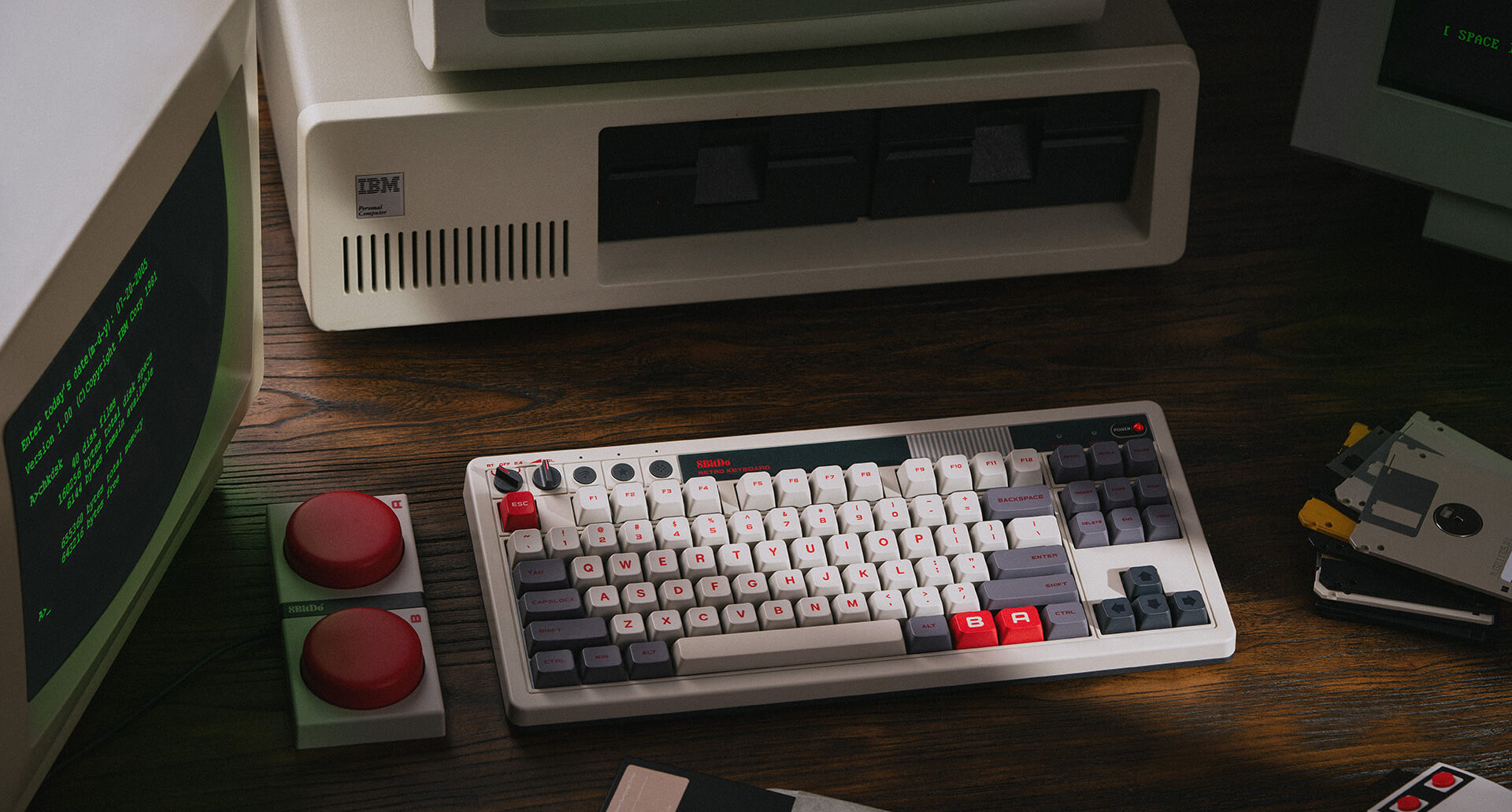 8BITDO RETRO MECHANICAL KEYBOARD
Introducing the 8BitDo Mechanical Keyboard, a keyboard packed with features and functionality and, for anyone (like us) with a love of retro gaming on the Game Boy, it's a must. This effortlessly cool keyboard is compatible with Windows and Android, and comes in two models: N and Fami editions. The keyboard is meticulously crafted to offer the perfect balance of quality and functionality. It can be connected via Bluetooth, 2.4G wireless, or wired.
Available for the bargain price of $99, the Retro Mechanical Keyboard from 8BitDo boasts PBT dye-sublimation keycaps and a top-mount structure, which delivers a robust, tactile and seamless typing experience. Like the 8BitDo Arcade Stick, the keyboard features an independent control panel that makes it easy to perform complex shortcuts with just a turn and a click.
---
---
The specially designed 8BitDo Dual Super Buttons offer large, programmable keys that can be used to set macros or map anything to them instantly without using any additional software. Up to four sets of keys can be connected (1 set included). The Ultimate Software V2 allows you to effortlessly configure your programmable keys, switch key mappings on the fly, and take advantage of powerful macro functions for a personalized performance.
We love retro designs when it comes to tech here  and the 8BitDo Retro Mechanical Keyboard is one of the coolest we've seen by far in a while. It has a very distinctive Game Boy-esque aesthetic that vintage gaming aficionados are definitely going to appreciate and the fact that you can add it to your workspace for under $100 is the real icing on the cake. If your workspace is looking to cultivate an old school cool look and feel then this is definitely the keyboard for you.