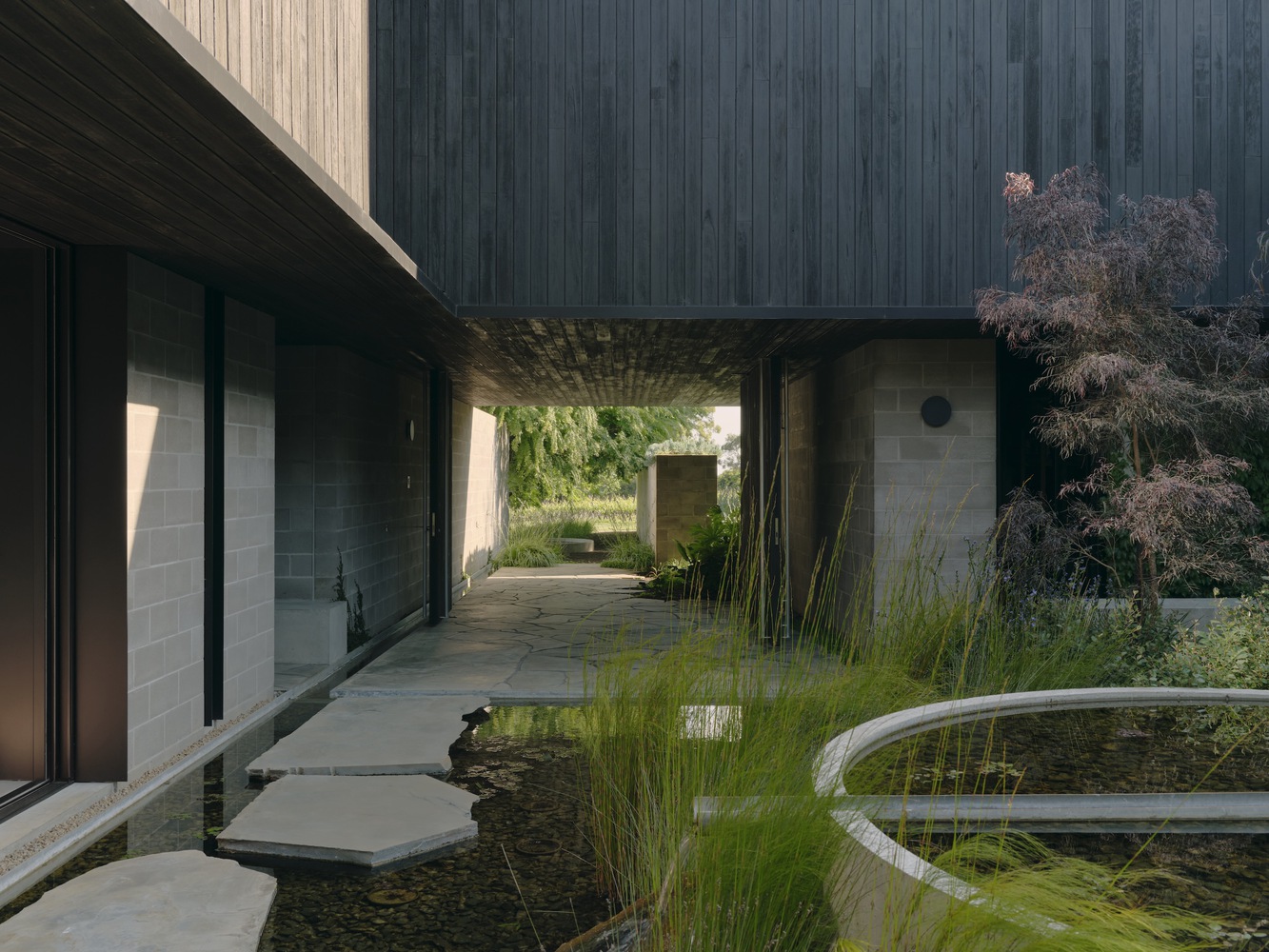 MERRICKS FARMHOUSE
Brilliantly designed, Merricks Farmhouse is located on a 50-acre property with spectacular views of vineyards, Philip Island, and Western Port Bay. It is designed as an interpretation of a traditional Australian farmhouse and though the elevated hilltop location delivers unbeatable views, it also exposes the house to the region's coastal climate.
To overcome this issue, the architects behind Merricks Farmhouse, Michael Lumby Architecture, Nielsen Jenkins, spread out the property over a single level and it has a large, sheltered courtyard garden in the middle. The courtyard becomes the most important room in the house, providing a sense of refuge from the expansive views and a focal point for the house at night. The thick walls, deep eave overhangs, and dark ceiling finish further enhance the feeling of refuge.
Merricks Farmhouse is large enough to accommodate two permanent residents and four visiting families. When not in use, three-quarters of the property can be closed off, leaving only a one-bedroom pavilion with all the main living spaces. This creates a sense of intimacy that belies the house's size.
The roof is a sleek, singular element that is visible in the landscape. The walls, however, are more elemental in nature. They are one metre thick and planted, and they project out into the landscape, editing and choreographing views and circulation. While most of these projecting walls frame views outward, when adjacent to more private spaces, they wrap back around to capture private courtyards, giving even intimate spaces a floor-to-ceiling outlook over greenery.
This design allows the house to expand and contract as needed, providing a sense of privacy and intimacy for both the permanent residents and the visiting families. The architecture of the house is designed to complement the surrounding landscape. The house is open and airy, with large windows that allow natural light to flood in.
Every room in the house has a view of the garden, which is designed to be a peaceful and relaxing space. The trees that were already on the property were incorporated into the design of the house, and the driveway was repurposed as a pedestrian entryway. The windbreak of lilly-pillies to the north of the pool was retained to create a sense of privacy and seclusion.