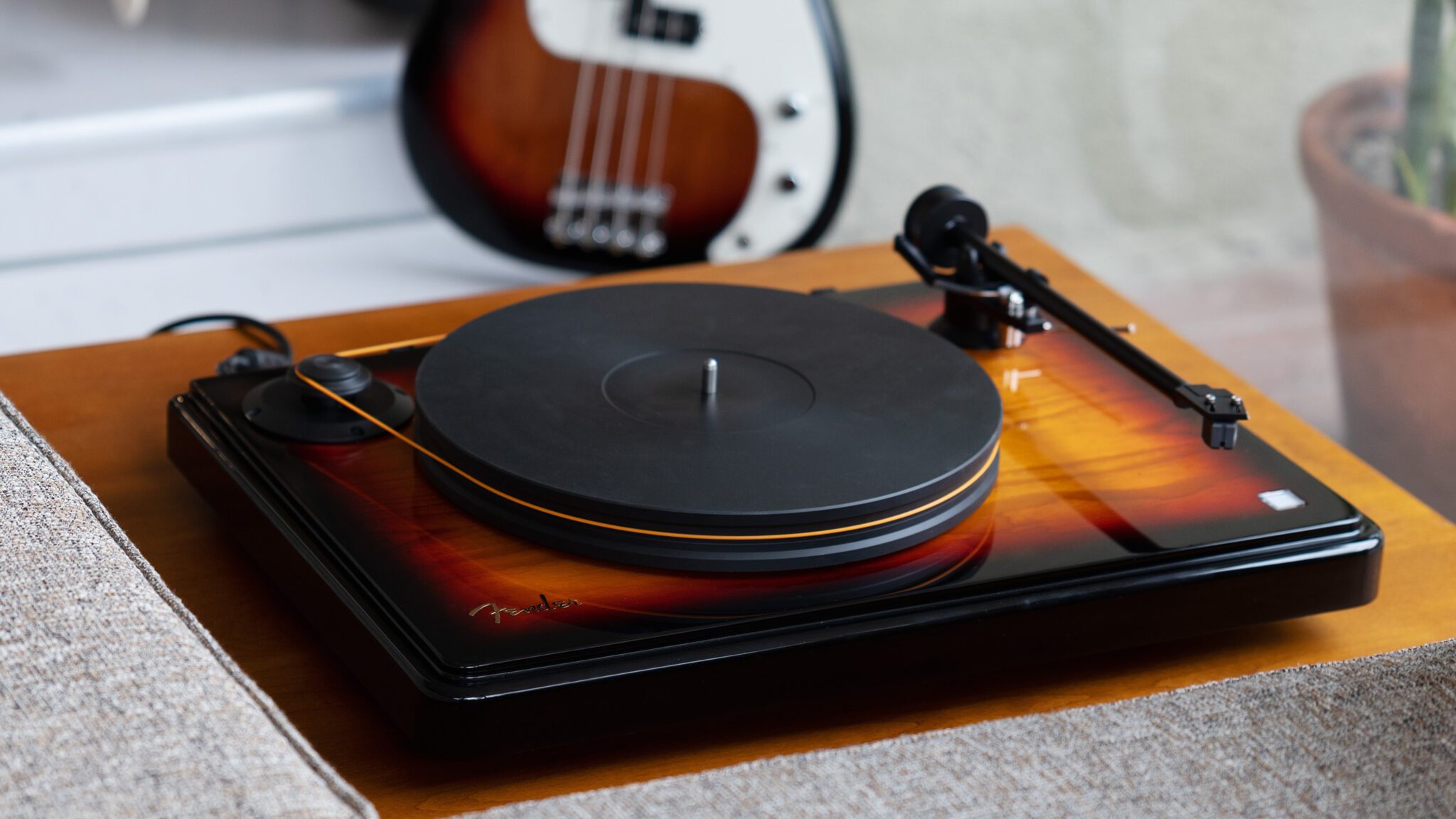 FENDER X MOFI PRECISIONDECK LIMITED EDITION TURNTABLE
Needless to say, if you're a vinyl aficionado, it's important to have the ideal machine on which to unleash your favourite records and, truth be told, we've not seen any that look cooler than this Fender x MoFi PrecisionDeck Limited Edition Turntable. This quality bit of kit from MoFi and Fender really is a sight to behold and will do justice to even the most extensive of record collections. This stunning, USA made, turntable boasts a striking sunburst finish and it is limited to just 1000 units so move fast to get your hands on one.
Priced at $3495, the Fender x MoFi PrecisionDeck Limited Edition Turntable is a hefty investment of course but for anyone serious about their vinyl collection, it will elevate it significantly whilst also delivering an unparalleled aesthetic impact to your interior design endeavours. Devised, handmade, and manufactured in the U.S.A., the limited-edition component features trademark traits associated with both American brands. Visually, it showcases the unmistakable and iconic tricolour sunburst pattern that stems from the early 1950s and mirrors the enduring look of Fender Precision Bass, Stratocaster, and Telecaster models. 
HIGH QUALITY APPARATUS
Boasting an impeccable urethane finish that ages superbly well and lends to exceptional durability, each PrecisionDeck undergoes the same hand-painting process Fender employs in its Custom Shop factory for its revered four- and six-string instruments. This will be an undoubted collector's item limited to only 1,000 units, and each comes individually numbered and badged, distinguished with a nameplate similar to the metal serial-number plates found on Fender guitars. Sonically, the PrecisionDeck exemplifies audiophile-grade through and through, with true-to-the-source vinyl playback that's wonderfully quiet and free of its own signature. Historically, it completes a narrative arc that began in Leo Fender's radio-repair shop and continued generations later.
Each Fender x MoFi PrecisionDeck Limited Edition Turntable ($3495) arrives meticulously built, with every piece and function having gone through comprehensive testing to guarantee optimal performance day in, day out. It comes equipped with the equivalent of a guitar pickup – in the form of Mobile Fidelity's acclaimed MasterTracker cartridge – for simple setup and operation, PrecisionDeck is ready to go out of the box. Physically speaking, it stands out via its super-sturdy, 1.3-inch, 6.8-pound Delrin platter that provides deep-black backgrounds and an impressively low noise floor.
The engineering quality of this turntable extends to the custom-developed Ultra tonearm, a 10-inch straight aluminium gimballed bearing design whose rigidity and tracking prowess translate into hyper-accurate information retrieval. Ultra tonearm also uses Cardas Audio wiring to ensure signal purity from the headshell leads all the way through the RCA connectors. Adjustable tracking force, VTA, azimuth, and enhanced anti-skate grant listeners simple fine-tuning options. After the high quality turntable your vinyl deserves? Look no further.