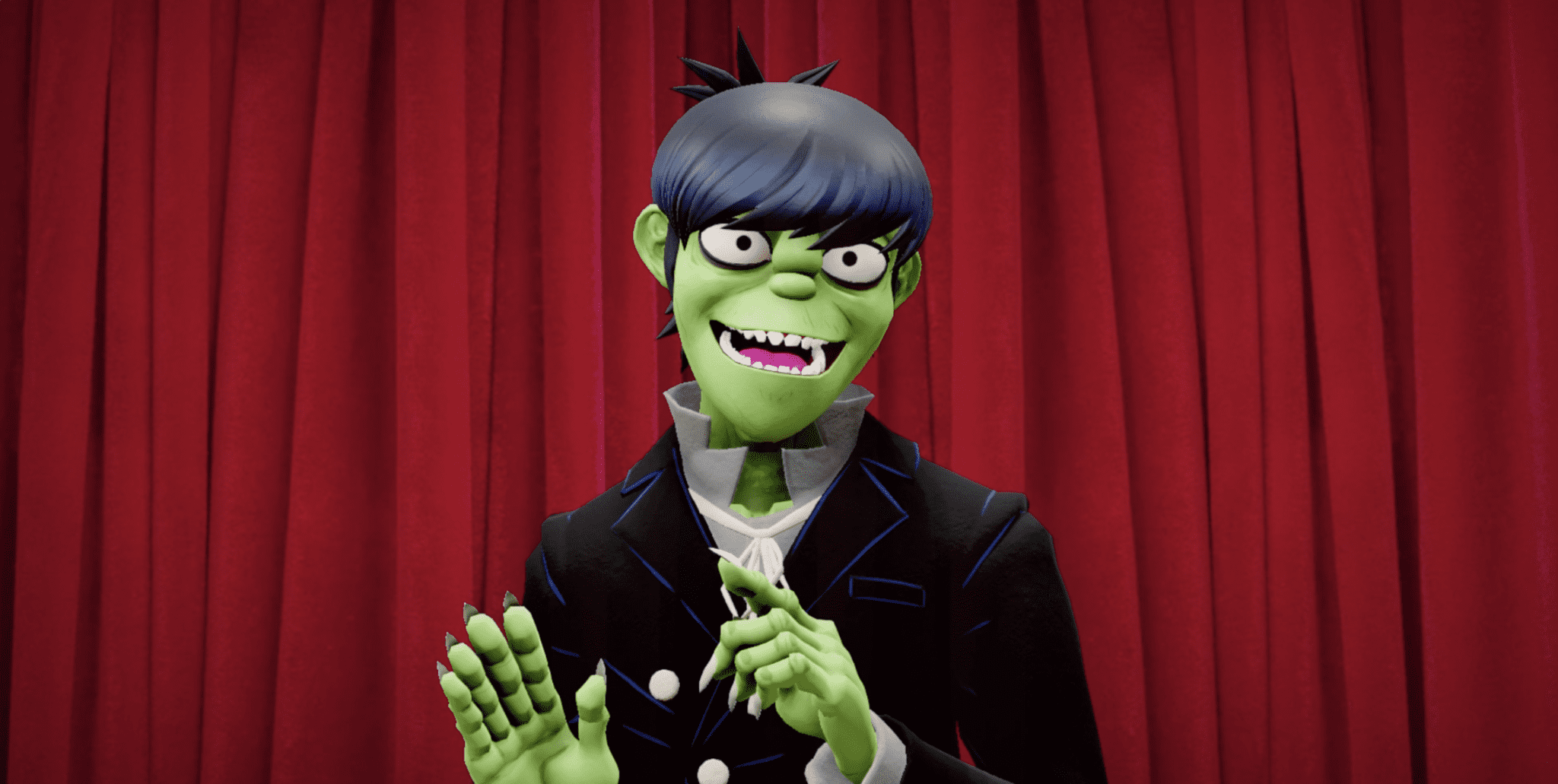 SMIRNOFF AND GORILLAZ COLLABORATE ON LIVE MIXOLOGY MASTERCLASS
THE WORLD'S NO. 1 VODKA BRAND AND THE WORLD'S MOST SUCCESSFUL VIRTUAL ACT SHAKE THINGS UP AGAIN WITH A LIVESTREAM MIXOLOGY MASTERCLASS AT 18:00 GMT THURSDAY 24TH NOVEMBER
THE FIRST-OF-ITS-KIND EXPERIENCE FOR GORILLAZ FEATURING MURDOC NICCALS INTERACTING LIVE WITH FANS LIKE NEVER BEFORE
Pull up a virtual bar stool and get ready for an evening of truly original mixology with your host: self-proclaimed music legend Murdoc Niccals. The bolder than ever vodka brand Smirnoff and musical originators are back for the next instalment in their creative collaboration, following the Limited Edition Smirnoff x Gorillaz No. 21 Vodka Bottle which sold out in just 24 hours and featured some very special reimagined recipes of classic Smirnoff cocktails. Gorillaz fans should get ready to mix along with Murdoc as he smooth-talks the audience through his delicious, pickle-perfect creation: The Vodka Murdini.
The masterclass will go live on YouTube at 18:00 GMT on the 24th November on Gorillaz Youtube Channel and the class is strictly for over 18s only. Those wanting to follow along at home will need to have to hand: a cocktail shaker, jigger, ice, a martini glass, vermouth,  olive brine, pickles and—of course—a bottle of Smirnoff's world-famous No. 21 vodka. The ever-charismatic Murdoc will go live on air to walk fans through his cocktail creation, before hosting a Q&A with those curious about his cocktail credentials or his lasting musical legacy. 
Commenting on the masterclass, Murdoc Niccals said: "Would you like to know the secret to my signature cocktail, The Vodka Murdini? Or maybe you just want to see me shaking one of those cocktail things while I spin inspiring yarns and solve all your problems? Then tune in to my LIVE mixology masterclass with Smirnoff! Not into cocktails or top-draw banter? Just sit back and behold my dazzling new tuxedo!"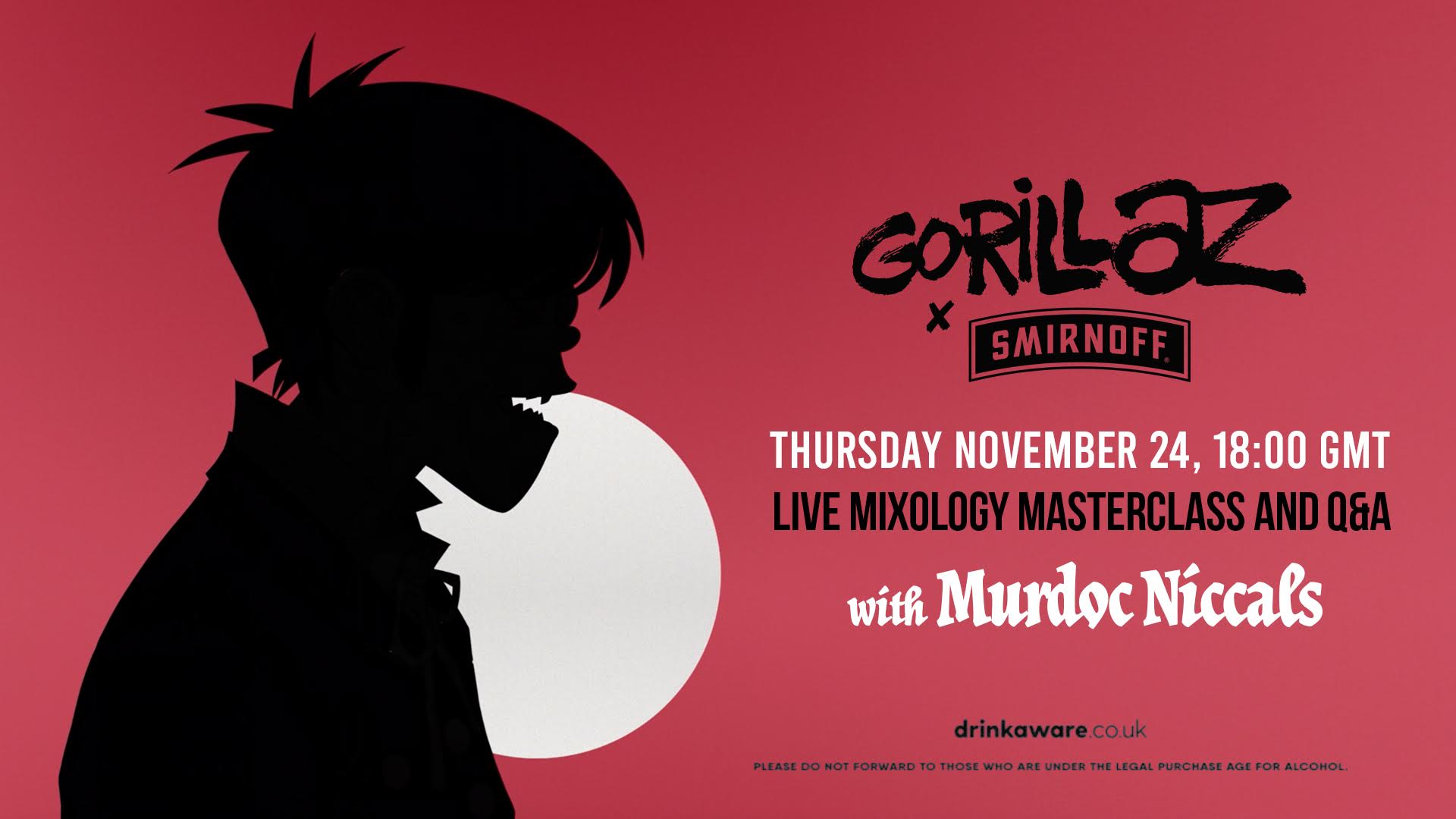 Mark Jarman, Head of Smirnoff GB, commented: "When we blend our creativity with our partners, we create innovative and disruptive new experiences for audiences to enjoy. Gorillaz are entertainment originators and real pioneers. This masterclass is a true testament to the endless possibilities that arise from embracing the true power of originality!" 
The Smirnoff x Gorillaz collaboration began with each of the four band members putting their own personal twist on some classic cocktails made famous by Smirnoff. Since 1864, the brand has had a staggering impact on global cocktail culture, introducing the likes of the Vodka Martini cocktail and the Brits' favourite Bloody Mary into our collective drinks cabinet. 
Smirnoff Vodka martini becomes the… Vodka Murdini 
Until Smirnoff Vodka came along, nobody had tried using vodka in a martini. In the 1950s, Smirnoff led a cocktail disruption across America by replacing gin in this classic serve and now millions of martini fans mix with Smirnoff Vodka instead of gin.  
Murdoc Niccals is affectionately regarded by the Gorillaz fandom community as Pickle (owing to his green skin) and we wouldn't put it past him to consider himself the ideal candidate for the next Bond, so it was a no brainer to take the shaken-not-stirred classic and whack a pickle in it… Hold the olive. 
Smirnoff x Gorillaz Cocktail Masterclass Details:
18:00 GMT on 24th November 2022
Gorillaz – Youtube – https://www.youtube.com/channel/UCfIXdjDQH9Fau7y99_Orpjw
More information available on http://gorill.az/murdocmasterclass 
www.smirnoff.com | @smirnoffeurope