Sennheiser Momentum 3 – Review
The world's most established headphone company has finally stepped up its game with the release of the Sennheiser Momentum 3 Wireless. It offers better noise-cancellation, higher quality sound and more functionality.
Sennheiser Momentum 3 Bluetooth over-the-ear headphones are a premium product, yet not so much more in cost than its competitors that you should not aspire to them.
The Sennheiser Momentum 3 are well-designed over-ear closed-back headphones. They're comfier than the older Sennheiser Momentum 2.0 Wireless. They're a bit bulkier than the previous model but still fold into a more portable design. They're still very well-built and feel like premium headphones with a retro look.
The control scheme of the Sennheiser Momentum 3 is easy to use. You can easily play/pause your music or answer/end calls with the middle button. You also have volume control with the top and bottom buttons and track skipping with the middle button as well. It's a bit hard to distinguish which button you're on, but they offer decent tactile and audible feedback.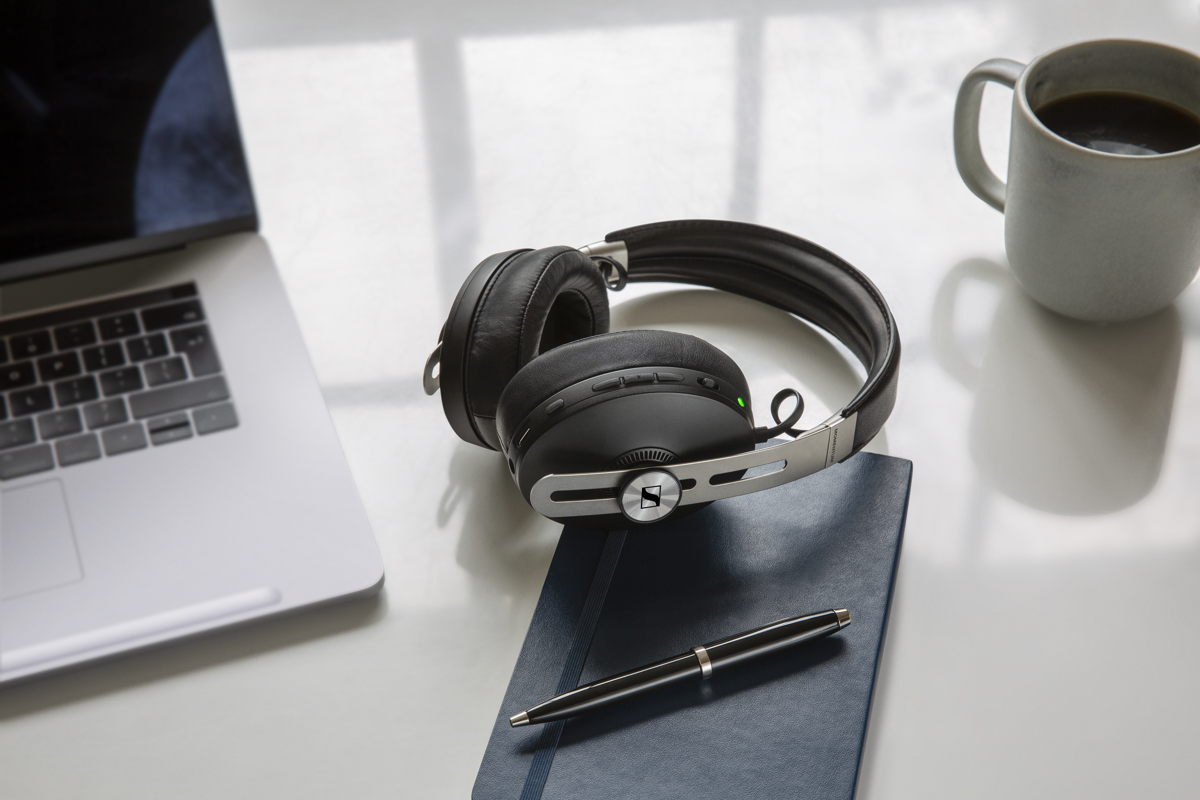 These headphones also have a button to control the level of ANC and talk-through. There's also an extra button that triggers your voice assistant if you press it but puts the headphones in Bluetooth pairing mode when holding it. When folding the headphones, they will automatically turn off, saving you battery. 
The Sennheiser Momentum 3 come with a decent soft case that protects the headphones a bit against scratches and minor water exposure. However, since the sides of the case are soft, the headphones are not entirely protected against physical damage from falls.
If bass heavy genres are more your style, the Momentum Wireless does a solid job with those too. There's tons of thump in the bass line to Phantogram's "Mister Impossible" that doesn't overpower or become muddy. Even that kick drum itself has some dimension to it, complementing the bass guitar perfectly.
Momentum Wireless fold quite flat. It makes them usefully portable and, if you remember to fold the left ear-cup first, this is how the power is turned all the way off. The Sennheisers also have accelerometers that will pause music if you take the headphones off your head, and will switch to 'standby' if you hang them around your neck. Doing the business inside the ear-cups are a couple of 42mm transducers.
It doesn't matter the sort of music you like to listen to, the environment in which you listen to it, or the kind of volume levels you're partial to – these headphones are always an enjoyable, and endlessly musical, listen.
Buy now Sennheiser