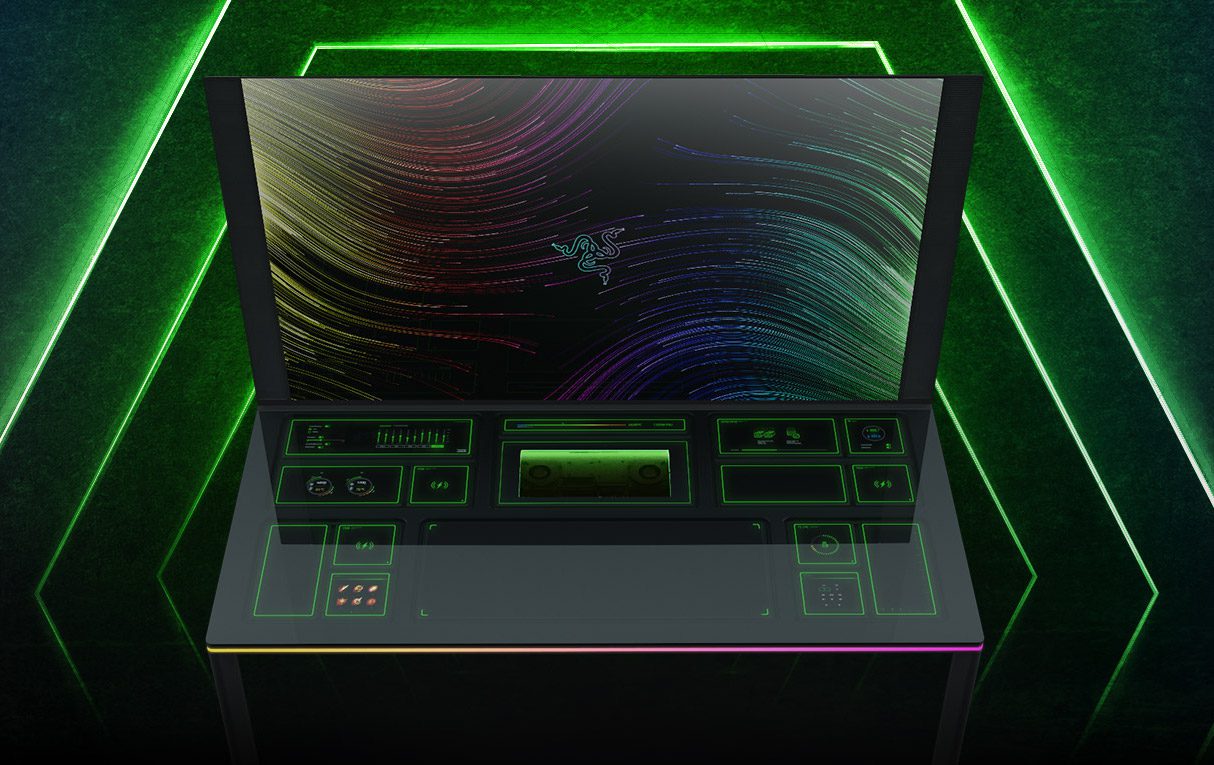 RAZER PROJECT SOPHIA GAMING DESK
If you're serious about your gaming, the guys at Razer have just announced something that you're definitely going to want to sit up and take notice of – namely, their rather astounding looking Project Sophia Gaming Desk. Billed as the world's first modular gaming desk concept, this striking piece of design is purpose built to elevate and enhance your gaming experience and it's definitely left us mighty impressed here
The Razer Project Sophia Gaming Desk allows you to switch out convention for innovation with a gaming battle-station of the future. Pleasingly kitted out with a vast selection of hot-swappable modules, this desk lets you unlock countless configuration options to create a setup customised to your requirements. Powered by a high-performance integrated PCB, the possibilities for PC have never seemed this limitless as they do with Project Sophia from Razer.
INTELLIGENT, MODULAR DESIGN
At the heart of Razer's concept for Project Sophia is a highly modifiable desk that is capable of supporting up to 13 separate modules for an untold level of personalisation. With a vast array of accessories and devices at your disposal, you can effortlessly configure the setup to suit any scenario on the go. This innovative creation from Razer is chock-full of impressive features which includes THX Spatioal Surround Sound Controls, programmable hotkey module, THUNDERBOLT™ powered EGPU and a 15 wireless charger.
Offering desktop power, in your desk, Project Sophia from Razer is exactly the sort of thing that gamers have been waiting for. Powering it all is a customised PCB fitted with cutting-edge core components, which includes the latest Intel processor and NVIDIA GPU to support the most resource-intensive actions. To maximise desk space, all of this is housed in a slim chassis that magnetically snaps in underneath the glass tabletop, which can be just as easily removed to install new upgrades.
Courtesy of its highly adaptable and extremely versatile design, Project Sophia is able to deliver the optimal configuration for gaming, creating, streaming, and working—combining many traditional setups into one single desktop. When power and immersion are what you need, spec out Project Sophia for high-fidelity audio and blistering visual performance by adding a THX Surround Sound system and high refresh rate monitor. The ultra-thin screen boasts self-lit pixels and the latest technologies to guarantee a brighter, sharper picture for the ultimate gaming experience. With support for a 65" or 77" display Project Sophia offers full control and maximum immersion. Here's hoping it will be on the market sooner rather than later.