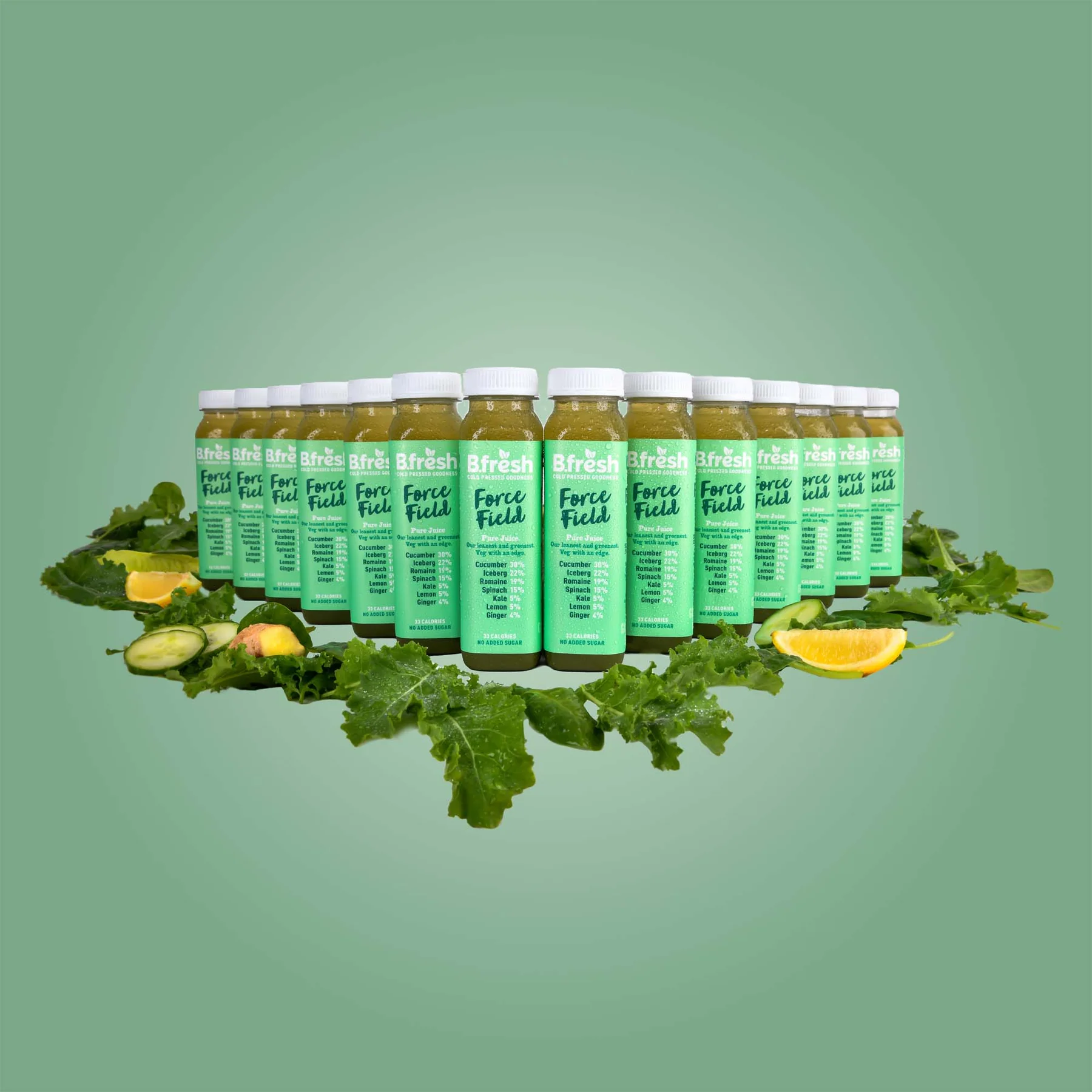 B.fresh
From 100% natural British cold-pressed drink.
B.fresh's range of juices and juice shots allow customers to reclaim control of their nutrition amidst busy daily routines in 2023. (23rd November, London) B.fresh cold-pressed juices and wellness juice shots are now available in personalised subscription models, designed to empower adults to lead a healthier lifestyle in an approachable and non-intimidating, commitment-free format. Putting the customer in control, B.fresh creates a hassle-free way to embrace and sustain a healthy lifestyle in 2023.
Customers can curate their own bundle of natural cold-pressed juices, smoothies and wellness juice shots, receive 10% off the total price, and select the frequency at which it is delivered (every 7, 14, 21 or 28 days). For added flexibility, B.fresh also enables customers to adjust the specific products or their quantities and pause the subscription at any time.
"On average, only 10% of people stick to their New Year's resolutions. When it comes to wellness, we are overwhelmed by an abundance of choice, and put off further by having to pay a premium for healthier products or wellness supplements. Driven by the guilt of overconsumption over the festive period, we often make irrational choices and select on-trend products that are heavily marketed, rather than committing to more sustainable lifestyle changes.
B.fresh's innovative approach to wellness routines has been conceptualised with today's customer in mind. The subscriptions are affordable and flexible, giving the customer the right to adapt their model to suit their routines as they evolve throughout the year – making it easier to maintain New Year's Resolutions.'' Says Matt Jones Bsc Msc, Nutritionist.
The innovative range of farm-to-fridge products is crafted from fruits and vegetables carefully selected for their health benefits, and enhanced with natural vitamins, minerals, and antioxidants – with no added sugar or sweeteners.
Meeting the holistic needs of the increasingly health-conscious consumer, the B.fresh product range includes:
B.fresh Wellness Shots:
NEW: B.fresh Wellness Shots, £2.80 each or 10% off as part of a subscription modelNEW: B.fresh Wellness Shots, £2.80 each or 10% off as part of a subscription model
B.fresh worked with leading nutritionist Matt Jones BSc MSc to identify three core, easily achievable goals that would benefit daily life: Focus, for concentration in a world of ongoing distractions; Relax, to counteract stress, tension and anxiety; and Sleep, to assist with one of the most important aspects of wellbeing. Customers seeking to transform and maintain their 2023 health regimes can take advantage of a B.fresh Wellness subscription, offering the freedom to choose the full trio or the specific juice shot(s) best suited to their individual needs.
B.fresh Cold Pressed Juice Range:
B.fresh Juices, from £3.65 (250ml) or 10% off as part of a subscription model
The dynamic range of juices are designed to target different areas: Get up and Glow aids skin health and gives a natural immune boost to get through the winter season; Green Guru contains essential probiotics to improve gut health and overall wellbeing, and Force Field has detoxifying effects and is crafted from 91% vegetables, containing only 33 calories per 250ml serving.
B.fresh Turmeric Range:
B.fresh Turmeric Juice Shots, from £2.40 (70ml) or 10% off as part of a subscription model
B.fresh's duo of powerful turmeric juice shots contain 49g of raw root turmeric making them the
most potent turmeric shots on the market.
Crafted from 100% natural ingredients, the shots have added Vitamin D (Turmeric Immunity) to promote the immune system and inflammatory response, or Vitamin B12 (Turmeric Energy) to aid the metabolism and reduce tiredness and fatigue.
B.fresh is committed to sustainable production practices. All products are packaged in recyclable packaging and the factory is powered completely by solar energy. When it comes to the ingredients, 'wonky veg' (vegetables that have small imperfections and would be deemed unfit for supermarket shelves) are used, contributing to combatting the food waste crisis.
B.fresh's range of juices, smoothies and shots are pressed on-site at a family-run farm in Shropshire. The cold-pressing process ensures that all drinks are high quality and nutritionally dense.
Customers can mix and match any of the B.fresh products from all ranges. For the full selection of juices, visit the B.fresh website.